In the run-up to the 21st Conference of the Parties (COP21) to the United Nations Framework Convention on Climate Change (UNFCCC),  people from many of the world's religions and wisdoms met in Paris on July 20 and 21 for a World Summit of Conscience to answer the question "Why do I care about the planet?" and launch a "Call to Conscience for the climate"
At the same time mayors gathered, to talk about climate change and human issues as human trafficking and slavery, with Pope Francis I at the Vatican, in advance of climate negotiations to be held in Paris later this year, this Summer in Paris the French president also took the opportunity to bring already some important figures together to tackle the same issues.
At the Vatican all of the mayors invited are already dealing with the impacts of climate change in their home cities.
In Paris French President and  Co-prince of Andorra, Francois Hollande took the cow by the horns, not waiting until the The United Nations Climate Change Conference, COP21 or CMP11 will be held in Paris, France in 2015 from 30 November 2015 until 11 December 2015. As for previous conferences we have heard that there may be good intentions to achieve a legally binding and universal agreement on climate with 195 States from all the nations of the world.
President Hollande said:
"The root cause of environmental degradation and climate change is a way of life, a mode of production, a mode of consumption that is not compatible with human development."
Pope Francis his encyclical called 'Laudato si' probably could influence the conference and in it and at the meeting of this week he calls for action against man-made climate change.
According to Michael Higgins, President of Ireland it is in the spiritual traditions, such as 'Laudate Sí', that we may find the concept of "ecology of integration" now prominent, and in turn from the tradition of human rights, the theories of "climate justice" and of environmental rights as human rights have come forward.
Hollande who in the past favoured an approach that emphasized growth, whilst German Chancellor Angela Merkel and Nicolas Sarkozy since the beginning of the euro-zone debt crisis, promoted austerity as the cure for Europe's ills, is now willing to tackle the other cancer of Europe, the state of our environment.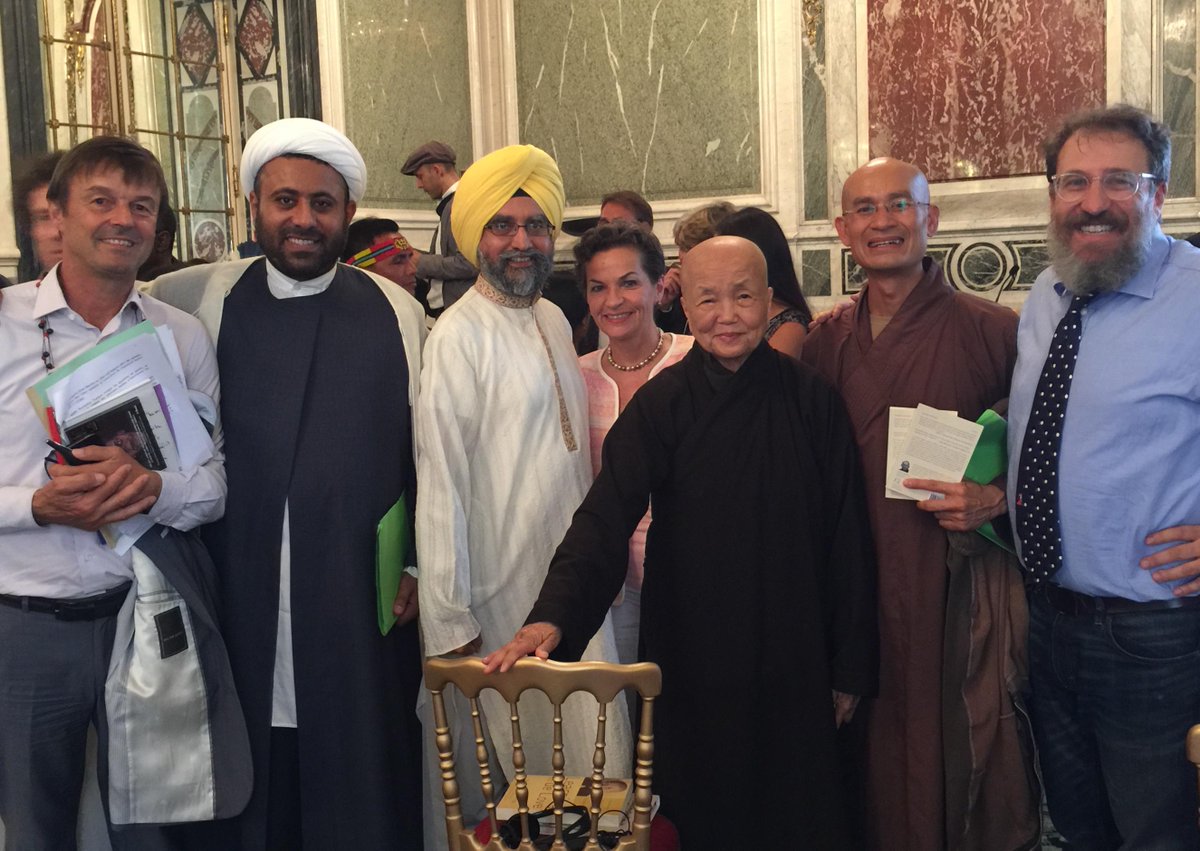 In the Vatican it may have been mostly Catholics coming together, Hollande got faith leaders, Nobel laureates, economists and artists from around the world gathered in the French capital to show that protecting the planet is more than a matter of science and concerning more than one faith group.
The 52 personalities meeting in Paris on July 21, and 1282 people taking part in the Call to Conscience, had good hopes and were not disappointed after Tuesday's meeting.
The project of a "Summit of Conscience for the Climate" well before COP 21 was to encourage the emergence of a "Narrative of the Consciences", that will complement the words from scientists, business leader, politicians, who all play their own role, providing their expertise.
Regardless of gender, age, language, culture, beliefs, we all should aim for the best of this world. Our goal has to be to encourage each individual to pause and think for a while, to briefly reflect about his or her relationship with and commitment for the Planet through a simple question:
"Why do I care".
It is true that we may have evolved to a community of citizens who are mostly interested in enriching themselves, without any interest in others. The selfishness has gone high in our capitalist world where most people their aim is to make as much money as possible and to live as richly and easily as possible, no matter what costs for the environment.
Luckily enough we may also find enough people who are conscious which direction this world is going and how it has become time to use the breaks. Those who are seeing that a lot is going the wrong way are willing to take steps and to make others aware of the necessity of changing our attitude. It is only a mobilization of conscience on a global scale that will enable humanity to meet this great challenge confronting us:
how to limit global warming by taking real action, including reducing our consumption of fossil fuels.
There has been a lot of time wasted by people who wanted to have their own region able to act freely, but demanding other regions to halt their pollution. People should know that
Time is short.
Many folks may think it is up to the politicians, but we should see this is not only a political economic or ecological issue. It is the future of humanity that is at stake.
Each of us is called to respond now to the questions:
In the preamble to the COP 21 Climate Conference, in Paris, the Summit of Conscience launched the "Why do I care?" campaign. It is an invitation to everyone – leaders, personalities and citizens of all countries of the world and of all faiths – to respond to this question, based on their own conscience and their own story.
Jean-Paul Delevoye, President of the Economic, Social and Environmental Council, considers it the responsibility of all decision-makers, political or economic, not to sacrifice the future for private interests. As head of the EESC he and his group defend the long term and the interest   for future generations.
For unions, companies, associations together affirm that it is not only possible but necessary to find a new model to reconcile economic performance, social and environmental.

For civil society plays a major role in supporting this radical change to policy as citizens.
Dr Husna Ahmad a Muslim woman from the United Kingdom feels there is not enough being done to highlight the calamities that are arising from climate change.
I am not a faith leader but my religion inspires me as a steward of this planet to act now and not wait until it is too late.
As a mother and grandmother she wants to save this planet for our future generations and commits for COP 21 and future to "Save the Planet":
Mobilise Muslim communities through thought leadership and deliver projects at the grassroots level to raise awareness of environmental problems and have Muslim women particularly being the changemakers.
We are reminded of a famous native American proverb that says:
"We do not inherit the land from our ancestors, we borrow it from our children."
All those living in industrialised countries can not ignore that the course of  industrialism or industrialization and the age of high mass consumption has placed a burden on the fragile home we call Earth that it can hardly bear. Not enough countries are taking action against those countries which still allow more than 80 percent of the Earth's natural forests further to be destroyed. In the world we often find people who call God a terrible bastard because He allows such terrible disasters come over man. Most people do forget that it is not the God of gods Who is responsible for mudslides, floods and other natural disasters which are triggered by what human beings themselves have done.
Climate change is basically a man-made phenomenon. We have nobody to blame but us.
affirms also Nobel Laureate Professor Muhammad Yunus, the father of both social business and microcredit, the founder of Grameen Bank, and of more than 50 other companies in Bangladesh.
He can clearly see how we as human beings without respect treat mother earth and try to blame others for our own stupidities. It is our way of life which is affecting agriculture, human health, ecosystems on land and in the oceans, water supplies, and people's livelihoods.
My country Bangladesh is a prime victim of this process.
To much people concentrate on their own living quarters, but what we have to see is that it is a much wider issue which concerns us all.
Most urgent task at the moment is to define a collective destination for us as a human society for our survival and ensuring the safety of our planet. I define this destination with three zeros; zero poverty, zero unemployment, and zero net carbon emission.  I hope others will join me to reach these three zeros by 2050.
says the man who has received 112 awards from 26 countries including state honours from 10 countries and is one of only seven individuals to have received the Nobel Peace Prize, the United States Presidential Medal of Freedom and the United States Congressional Gold Medal. Other notable awards include the Ramon Magsaysay Award (1984), World Food Prize (1998), The Prince of Asturias Award for Concord (1998), Sydney Peace Prize (1998) and the Seoul Peace Prize (2006). In Bangladesh he  got President's Award in 1978 for introducing an innovative organisation in agriculture. He was awarded the Independence Day Award in 1987, by the President of Bangladesh for the outstanding contribution in rural development. This is the highest civilian national award of Bangladesh.
His idea is
To achieve these three zeros the world needs four things:

1. Harness the energy and creativity of the youth;

2. Use the power of technology;

3. Involve all social, economic, and political organizations, particularly all businesses to create social businesses to solve human problems. and,

4. ensure human rights and good governance.
At the mind boggling exponential growth of technology, it is possible to achieve these three zeros much earlier than we think.
The main reason why it is not happening now is because the emerging technology is not directed towards these three zeros. Technology today is in the hands of the money-makers and war-makers. They are not directing it to solving the problems of the world. If the technological expansion is directed towards solving our problems of poverty, unemployment, environmental degradation, population management, universal healthcare, equitable distribution of wealth, it would be so much easier to achieve. We need to put a new driver to drive the technological innovations and applications forward. The new driver will be the social business entrepreneur. His exclusive mission would be to create new frontiers of technology to end our problems. The youth, backed up by good governance and guaranteed human rights, can take the lead in making this happen.
+
To be continued:
Paris World Summit of Conscience, International interfaith gathering #2
Paris World Summit of Conscience, International interfaith gathering #3
Preceding articles:
Climate change guilty of doing too little
Forms of slavery, human trafficking and disrespectful attitude to creation to be changed
Vatican against Opponents of immigration
Mayors from all over the world at the Vatican to talk about climate change
++
Additional reading:
+++
Find also further reading:
+++
Related articles