Doorheen het jaar zag men zeer veel smombies door de straten lopen en aan de ontbijttafels zitten in hotels, of zich asociaal gedragen in rustplaatsen voor de werknemers.
Maar pas wakker, al in bed begonnen veel jongeren al op hun smartphone, i-phone, i-pad of tablet hun Facebook account na te pluizen en keken zij daar op hoe het met de wereld en hun pseudo 'vrienden' was gesteld. Nog niet goed wakker kregen zij dan een heleboel lijken voorgeschoteld als aperitief. Nog voor het ontbijt werden allerlei prentjes bekeken die de wereld zouden mogen schokken of voor grootste gruwel mogen door gaan.
2015 mag het jaar in gaan waar de sociale media ook de journaals op de televisie hebben veroverd. Voor de nieuwsuitzendingen moest men vroeger wachten op de captatiewagens en kwamen de camera's van de televisieploegen altijd na de gebeurtenissen op de scène. Maar nu heeft Jan en Alleman wel een of andere camera (op zijn mobiele telefoon of tablet) om dadelijk tijdens het gebeuren de feiten vast te leggen op de digitale media.
Zo kon de hele wereld dadelijk zien wat er op het ogenblik van het angstig gebeuren in Parijs of Nepal te beleven viel. Krijsende mensen en velen die de dood voor ogen zagen werden op piepkleine schermpjes vastgelegd om later in miljoenen huiskamers bekeken te worden, soms met open mond en verbijstering.
Want 2015 mag ook wel de annalen in gaan als het jaar van de verbijstering. Datgene wat niet mogelijk leek of datgene waar niemand aan dacht bleek harde realiteit te worden.
Verbouwereerd konden wij doorheen gans het jaar de zinneloosheid vaststellen van het immer doorgaand oorlogsgeweld op deze aardbol en de grote verwarring die er telkenmale heerste bij de veelvuldige aanslagen die de eer opeisten om de eerste plaats te verwerven in de media.
Meermaals in het jaar werd er gepoogd mensen het zwijgen op te leggen. Hierbij vielen over heel de wereld duizenden doden. Zij verkregen zeer veel aandacht en heel de hetze rondom hen overtrof de miljoenen verkeersslachtoffers waar geen kat om kraait. Ook zagen de meeste mensen niet om naar de vele duizenden slachtoffers van ernstig levensbedreigende ziekten. Hierbij mocht kanker wel nog veel media aandacht krijgen en moet het gezegd worden dat men in 2015 ook meer aandacht begon te schenken aan de levensbedreigende welvaartsziekten waarbij suikerziekte hoog op het lijstje prijkte naast obesitas.
Maar de overvette mensenwereld moest ook toekijken hoe de uitgemergelde mensenwereld van Jut naar Jar werd gestuurd en hoe zij wilde waters moesten door zwemmen en door de modder moesten ploeteren om in de herfst maanden meer grenzen te zien sluiten door metershoge barricades van prikkeldraad, ook al bevonden zij zich in de Schengen gebieden.
Massa's vluchtelingen verloren onderweg familieleden. De allerkleinsten als eerste slachtoffers. Maar het duurde tot het beeld van een peuter die levenloos op het strand lag terwijl het water zijn lichaam 'streelde', vooraleer de goegemeente wakker schoot.
Het duurde tot september eer mensen emotioneel konden geraakt en eens verder gingen denken over het leed dat de vluchtelingen te beurt valt.
Op woensdag 2 september namelijk werd een aangespoeld dood jongetje het gezicht van alle bootvluchtelingen die Europa proberen te bereiken. Een fotograaf zag de peuter liggen. Eerst op zijn buik in de branding bij Bodrum in Turkije, met een rood T-shirt, een korte broek en kleine schoenen. Daarna in de armen van een hulpverlener. De foto's gingen de wereld over.
Kinderen zijn vaker het gezicht van het leed, van oorlog, honger en geweld.
Dagelijks sterven kleine Aylans in Syrië, Irak, Lybië, Palestina, Soedan en andere Afrikaanse landen, maar in het Westen zal er niemand om treuren. Pas als de wereld geschokt wordt door een 'boeiend' of 'pakkend' beeld staat de westerling op en gaan er sommigen reageren.
Maar in deze tijd gaan er ook regelmatig kritische stemmen op, die zich vragen stellen bij wat er in de media wordt gepresenteerd en zich afvragen of sommige beelden niet geörchestreerd worden.
Dit aangespoelde jongetje, waar van zo vlug andere foto's van opdoken, doet denken aan een vroeger ontroerend beeld dat de wereld schokte en plots mensen steun deed geven voor het leed in Soedan in 1993.  Het kind dat toen een icoon werd, ligt uitgemergeld op de grond, het gezicht naar beneden, de ribben zichtbaar. Naast het kindje staat een gier. Het werd een symbool voor de hongersnood in Afrika. De Zuid Afrikaanse persfotograaf, Kevin Carter, pleegde een jaar na de foto zelfmoord. Hij kon al het leed dat hij had gezien niet meer aan. aan die hongersnood is echter nog steeds geen einde gekomen, al zijn wij meer dan 20 jaar verder blijft dit nog steeds een plaag op het Afrikaans continent, wegens de vele stammen oorlogen, en in mindere mate door de droogte.
Het satirische Franse magazine Charlie Hebdo dat vorig jaar en in januari letterlijk onder vuur lag, was niet verlegen om een reclamebord van McDonalds in een cartoon rond de Aylan af te drukken waarop staat:
'Twee kindermenu's voor de prijs van één.'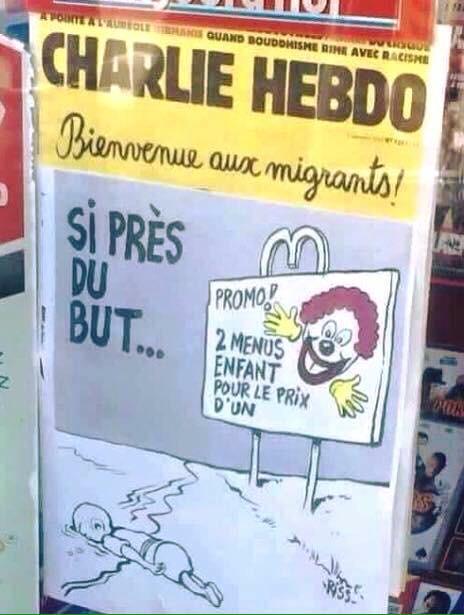 Het tijdschrift dat niet bepaald Christelijk te noemen is en vroeger de kerk heel wat figuurlijk onder vuur nam spot dan weer met Aylans religie, met als titel
'Bewijs dat Europa christelijk is'.
Het toont een figuur dat sommige Europeanen voor Jezus mogen nemen, met de woorden
'Christenen lopen op water'
en het jongetje in de zee met als bijschrift
'Moslimkinderen zinken'.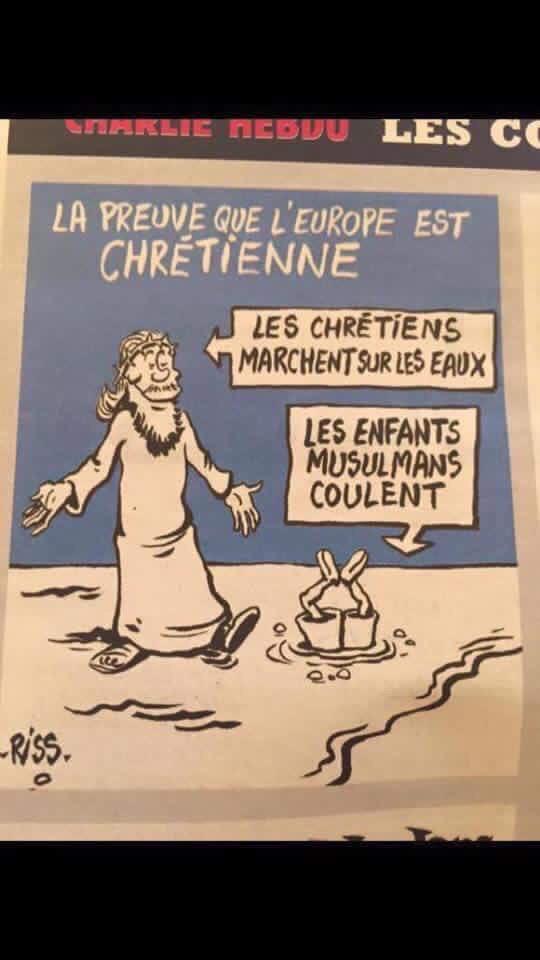 De door Laurent 'Riss' Sourisseau getekende cartoons zijn een vernietigende aanklacht van het 'anti-vluchtelingengevoel' dat er heerst, volgens Maajid Nawaz, oprichter van de in Londen gebaseerde anti-Islamistische Britse denktank Quilliam, die op Facebook schrijft
'De McDonalds-afbeelding is kritiek op harteloos Europees consumentisme in het gezicht van een van de ergste menselijke tragedies van onze tijd .' (NSK)
Bart De Wever is een van de mensen die toe geeft dat de foto van de dode kleuter hem ook raakt.
"Maar ik haak rationeel af als dat een emotioneel drukkingsmiddel wordt om voor een Europese politiek van open buitengrenzen te pleiten. Ik laat mij geen schuldgevoel aanpraten omdat ik dat geen goed idee vind."
Voor hem en zijn partij leden staat het als een paal boven water dat men oorlogsvluchteling is tot je een grens bent overgestoken waar je niet meer voor je leven hoeft te vrezen. Hij voegt er aan toe
"Voor een Syriër is dat de Turkse grens. Wie doorreist naar West-Europa, is een economische vluchteling. Dat kind is dus niet gestorven omdat zijn ouders op de vlucht waren voor geweld. Het is gestorven omdat zijn ouders op zoek gingen naar een beter leven."
Spijtig genoeg zijn vele kinderen mee getrokken in het avontuur van hun ouders, op zoek naar dat beter leven, dat voor velen zeer tragisch is geëindigd.
De terreurbeweging Islamitische Staat publiceert in februari een video waarin de onthoofding van 21 Koptische christenen te zien is. In de video verklaart de beul dat IS ten zuiden van Rome staat. Als reactie op deze video bombardeerde Egypte verschillende IS doelen in Libië. Een maand later vallen er meer dan 20 doden te betreuren bij een aanslag op het Bardomuseum in de Tunesische hoofdstad Tunis en bij een dubbele aanslag op twee Sjiitische moskeeën in de Jemenitische hoofdstad Sanaa komen meer dan 140 mensen om het leven.
Op dezelfde dag dat in in Koeweit een zelfmoordaanslag wordt gepleegd in naam van Islamitische Staat wordt op een strand in de stad Sousse, in Tunesië, eveneens een aanslag gepleegd die op 26 juni minstens 37 mensen het leven kost.
Onderweg van Sharm-el-Sheikh naar Sint Petersburg op 31 oktober stort een Airbus A321 van de Russische luchtvaartmaatschappij Kogalymavia met vluchtnummer 9268 neer ten gevolge van een bomaanslag op het Egyptische schiereiland Sinaï. Bij de crash komen alle 224 inzittenden om het leven. President Poetin kondigt een dag van nationale rouw af. Wegens de terugvallend aantal passagiers door die aanval, besloot Metrojet haar vluchten te staken tot een herziening, vermoedelijk zomer 2016.
Sinds de aanslagen in Londen van 7 juli 2005 krijgt in november Europa het hard te verduren met terreuraanslagen door IS getrouwen. Op 13 november worden een zestal aanslagen in Parijs uitgevoerd waarbij meer dan 130 doden vallen en meer dan 200 mensen gewond raken.
Naast het oorlogsgeweld, dat in Syrië hevig door ging, werden dit jaar ook vele onschuldige slachtoffers gemaakt door schietgrage burgers wiens wapenbezit door de staatsleider niet beperkt kon worden. Ook al vielen er meer doden door wapens van hun Amerikaanse medeburgers trachtte Donald Trump het voor te doen dat het de vreemdelingen en Islamitische gelovigen waren waar men angst voor moest hebben.
Op de avond van 17 juni, vroeg een blanke man genaamd Dylann Roof om zich bij een bijbelstudie groep aan te sluiten in de traditioneel zwarte Emanuel AME Kerk in Charleston, SC. Roof opende het vuur op de vergadering en dode negen mensen, waaronder een state senator. Later zij hij dat hij de aanval uitvoerde om een rassen oorlog uit te lokken. Foto's van Roof die poseerde met de Confederate battle flag of Verbonden slagvlag leidde tot een wijdverspreide beweging tegen de display van de vlag en culminerend in de verwijdering van de vlag van een monument op het South Carolina State Capitol gebouw.
Bij een schietpartij in een zorgcentrum in de Amerikaanse stad San Bernardino vallen 14 doden en 21 gewonden. De Amerikaanse daders van de schietpartij vluchten per auto en worden enkele uren na het bloedbad gedood door de politie. Terreurgroep IS eist de aanslag op.
Onvoorzichtigheid van de mensen brengt ook bij twee explosies in het havengebied van Tianjin meer dan 120 mensen tot de dood en bezorgt meer dan 700 gewonden op 12 augustus. Tien dagen later verongelukt een Hawker Hunter bij een vliegtuigshow in Engeland, er komen zeven mensen om het leven.
Minstens 12 doden en verschillende gewonden vielen er op 5 november bij een dambreuk in een mijn van BHP Billiton te Mariana waarbij zestig miljoen liter giftig water en modder vrij kwam.
© Emma Pedley/AZG
Een hoogzwangere Nepalese vrouw wordt uit haar dorp geëvacueerd door een team van Artsen Zonder Grenzen. Hulpverlening in het hooggebergte was een bijzondere uitdaging na de aardbeving die Nepal trof in april 2015.
Een aardbeving, ook gekend als de Gorkha beving, met een kracht van 7.9 treft Nepal op zaterdag 25 april, het land wordt op dinsdag 12 mei opnieuw getroffen door een beving met een kracht van 7.4 en op 17 mei weer een, dit maal met een kracht van 5,7 op de Schaal van Richter. Zeker 9 000 mensen  verliezen er hun leven en 23 000 geraken ernstig verwond.
De aardbeving veroorzaakt ook een lawine op de Mount Everest, waarbij ten minste 19 bergbeklimmers sterven, welk van 25 april 2015 de dodelijkste dag in de geschiedenis van de berg maken.
De beving was ook een economische ramp met 191.058 verwoeste huizen en nog eens 174.162 beschadigde huizen. De overheid hield er rekening mee dat het aantal verwoeste huizen kon oplopen tot 500.000. Door de schade aan gewassen en het feit dat in veel getroffen gebieden niet goed geoogst kon worden kwam onder meer de door de FAO voor 2015 voorziene tarweproductie in Nepal in gevaar.
Op 26 oktober treft een aardbeving met magnitude 7.5 de regio Hindoekoesj en veroorzaakt 398 doden.
Bij overstromingen in het noordoosten van India worden 200.000 bewoners gedwongen hun huis te verlaten en verdrinken ook ettelijke bewoners in het gebied.
Groot-Brittannië komt erg genoeg dit jaar ook weer eens in het nieuws met erge overstromingen, waarbij de bevolking zich nogmaals af vraagt wat de de regering hier eigenlijk gaat tegen doen. Noordwest-Engeland, met name ten noorden van Manchester, en Yorkshire zijn er het ergst aan toe. Duizenden mensen in meerdere gebieden over Engeland en Schotland hebben voor meerdere dagen hun woning moeten verlaten vanwege zware overstromingen. Onder meer de Irwell en Ribble zijn ver buiten hun oevers getreden. Het is op 27 december de derde keer binnen slechts een maand dat er in dit gebied sprake is van zware wateroverlast.
Ook de staat Missouri kreeg haar portie van wateroverlast met doden.
© Yann Libessart/AZG
Een medewerkerster van Artsen Zonder Grenzen doet haar beschermende uitrusting aan om ebolapatiënten in de Guinese hoofdstad Conakry te kunnen verzorgen. Op 28 december 2015 viert Guinee het einde van de ebola-epidemie. Teams van Artsen Zonder Grenzen werkten tot het allerlaatste moment mee aan het indijken van de ziekte.
Dat de uitvoering van een geloof dodelijk kan zijn ondervonden veel pelgrimgangers in Saoedi-Arabië waar bij de jaarlijkse bedevaart in Mekka een ongekend aantal (officiële bronnen spreken slechts over een 700tal, terwijl buitenlandse organisaties gewagen van meer dan 2000) door verdrukking om het leven kwamen.
***
In beeld
© Karel Prinsloo
Twee familieleden brengen Ruai Puot Malow, 56 jaar, naar het ziekenhuis van Artsen Zonder Grenzen in Lankien, Zuid-Soedan. Het aanslepende geweld in het land treft ook de gezondheidszorg, zodat ziektes zoals kala azar, waaraan Ruai Puot Malow lijdt, weer meer slachtoffers maken.
© Anna Surinyach/AZG
De vijftien jaar oude Fathema is zoals zoveel landgenoten het geweld en de armoede in Somalië ontvlucht. Ze werd gered door een team van Artsen Zonder Grenzen toen ze in een overvolle boot de Middellandse Zee probeerde over te steken.
© AZG
Artsen Zonder Grenzen ondersteunt heel wat ziekenhuizen en klinieken in Syrië, waar de oorlog blijft duren. De bevoorrading met medicijnen en medisch materiaal is niet eenvoudig en moet soms op primitieve manieren gebeuren.
+
Voorgaande:
Overzicht voor het jaar 2015 #1 Dreiging en angst
Engelse versie / English version: Summary for the year 2015 # 2 Strewn with corpses and refugees
++
Aanvullend
+++
Lees verder ook
+++
Related articles