For a short time perhaps now known as known as "Europe's Terror Capital" Brussels has to heal the wounds but also to face the incredible strange back-stage scenes of the secret security services. They seem to have lots of secrets which seem to have brought the Belgian citizen in much danger.
Non or bad communication with each other or sharing information Belgians divided eight parliaments (federal, three regions, three language communities and the EU), 19 municipalities with 19 different mayors in Brussels alone, and six separate police departments make the Surrealist Kafka country a reality Belgians have to endure every day, paying lots of taxes, working more than 8 months for the government before they can receive one penny for their own pocket. No wonder we look such fools for those who are not citizens living in Belgium.
The Belgian constitution enables a peculiar Belgian national condition of encouraging those with power to "look the other way" and wash their hands of the matter when an intractable problem emerges.
+
To remember
Whilst visitors have gathered to the Beursplein or Bourse plaza,  in the aftermath of the explosions that ripped through the departure hall of Brussels' Zaventem airport and a metro station in the Belgian capital, having created hundreds of messages of defiance, comfort and solidarity in response to Tuesdays bombings this giant message board for people to chalk tributes to the victims of the Brussels attacks and leave notes of defiance and solidarity may just be a small patch on the deep wound of those living in Belgium.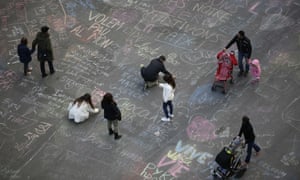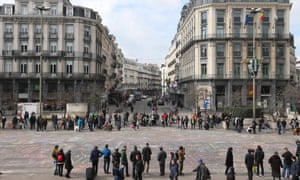 Messages range from the angry – "Fuck Daesh [Isis]" and "Fuck terror" – to those that expressed solidarity – "From Spain with Love". Others, such as "Make love not war" and "Peace no war", simply expressed hope for a better world.
It was lovely to see how suddenly such a huge offering of help came unto the public.
Soon the hashtag #ikwilhelpen – I want to help – was going around all over the country and the internet,  offering assistance to anyone who needed it. The hashtag #JeSuisBruxelles also began trending, a message of solidarity reminiscent of the outpouring of grief following the Charlie Hebdo attack in France last year, when the hashtag #JeSuisCharlie was created.
Rudi Vervoort, the minister-president of the Brussels-Capital region, said the city had shown "its true nature … an exemplar of solidarity", citing the massive number of blood donations, taxis giving their services for free and people on social networks offering to open their homes to those in need.
+
In the wake of any terrorist attack >
1° = mourn victims + try to defy dreary ideology of perpetrators.
2° = understand what went wrong.
Belgium's beleaguered security services are once again facing intense scrutiny over how such complex attacks could happen with so much advance warning.
failings of a country with grotesquely complex state structures + highly dysfunctional security system => turning nasty as the country finds itself confronting a terrorist infrastructure that has planted deep roots in Belgian society.
U.S. officials  are bashing 'clueless', 'shitty' Belgian Security Forces for being way too incompetent to handle today's terror threat.
== Belgium has never had a strong intelligence culture, as it partly relied on safety support from its neighbours; and particularly from France.
main issue with Belgian security Forces today =/= lack of infrastructures => lack of interest in coordination = consequence of Belgian political establishment = dysfunctional system
Recent figures = 562 Belgians fought in Iraq or Syria > At least 124 hail from Brussels. > population of 11 million, Belgium sent more fighters per capita than any country in Europe to the charnel house of the Syrian civil war. Something is clearly going wrong here.
list of people (and things) to be blamed for this situation published already in November last year > chief of police + several politicians > many still in power

+++
Related articles