It looks like it were only a few days which were given us to prove once more how mankind is a hero in putting its head in sand. Worst of all, was to see how millions of animals did not find a way out to escape the blazing fire, that managed to put to ash far more that the double surface of Belgium in Australia. Crimson skies, night darkness in the middle of the day, showed the world how man could be so frail not able to still the all devastating fire from the bush coming very close to town, the wave of fire having no pardon for anything standing erect.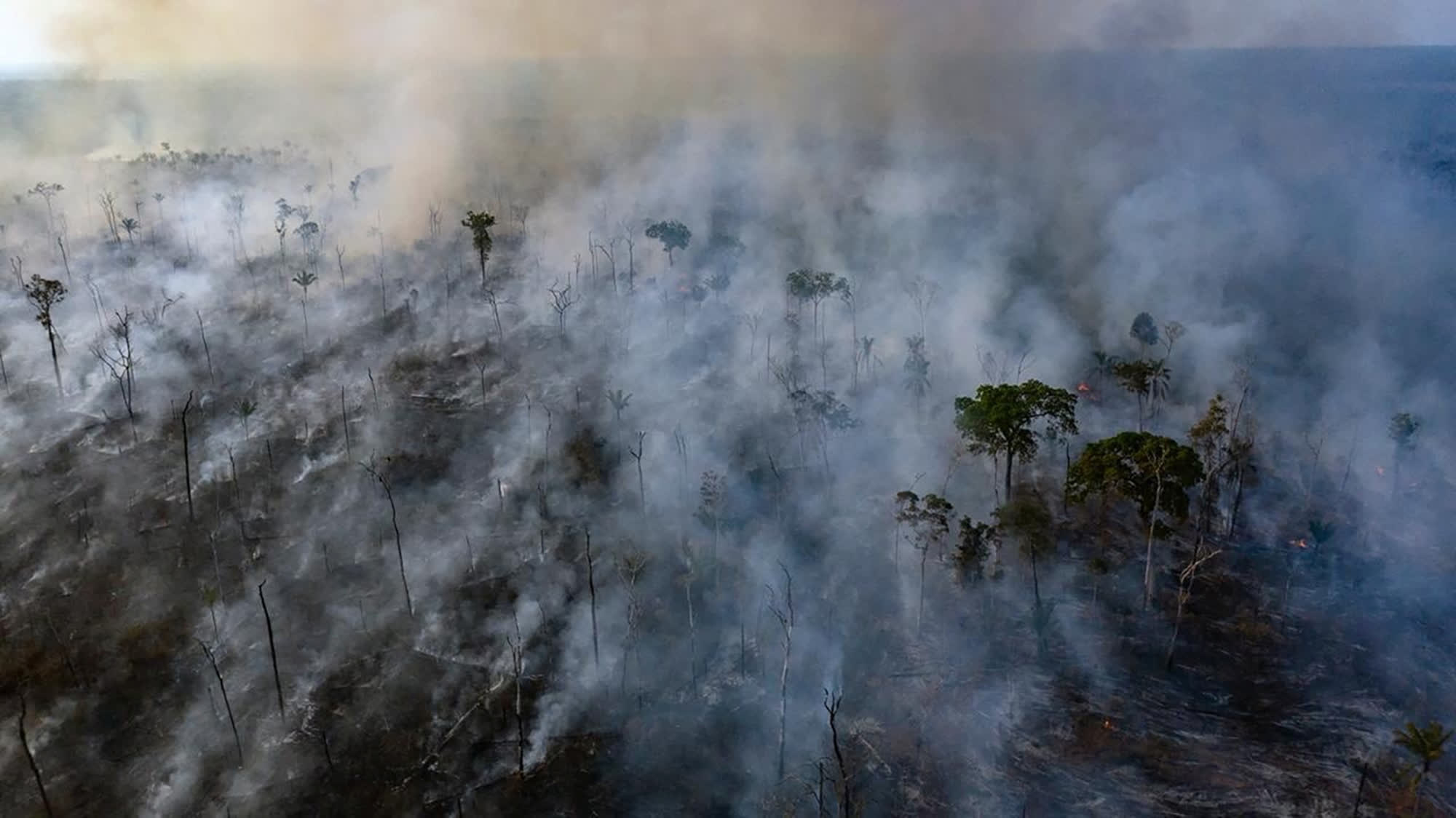 The first big fire requesting our attention was the burned Amazon rainforest in Brazil's Mato Grosso state. Every year, farmers in the Amazon clear out areas so their cattle can graze. But this year's fires were way up over last year, and that has raised concern about what it means for the health of the planet.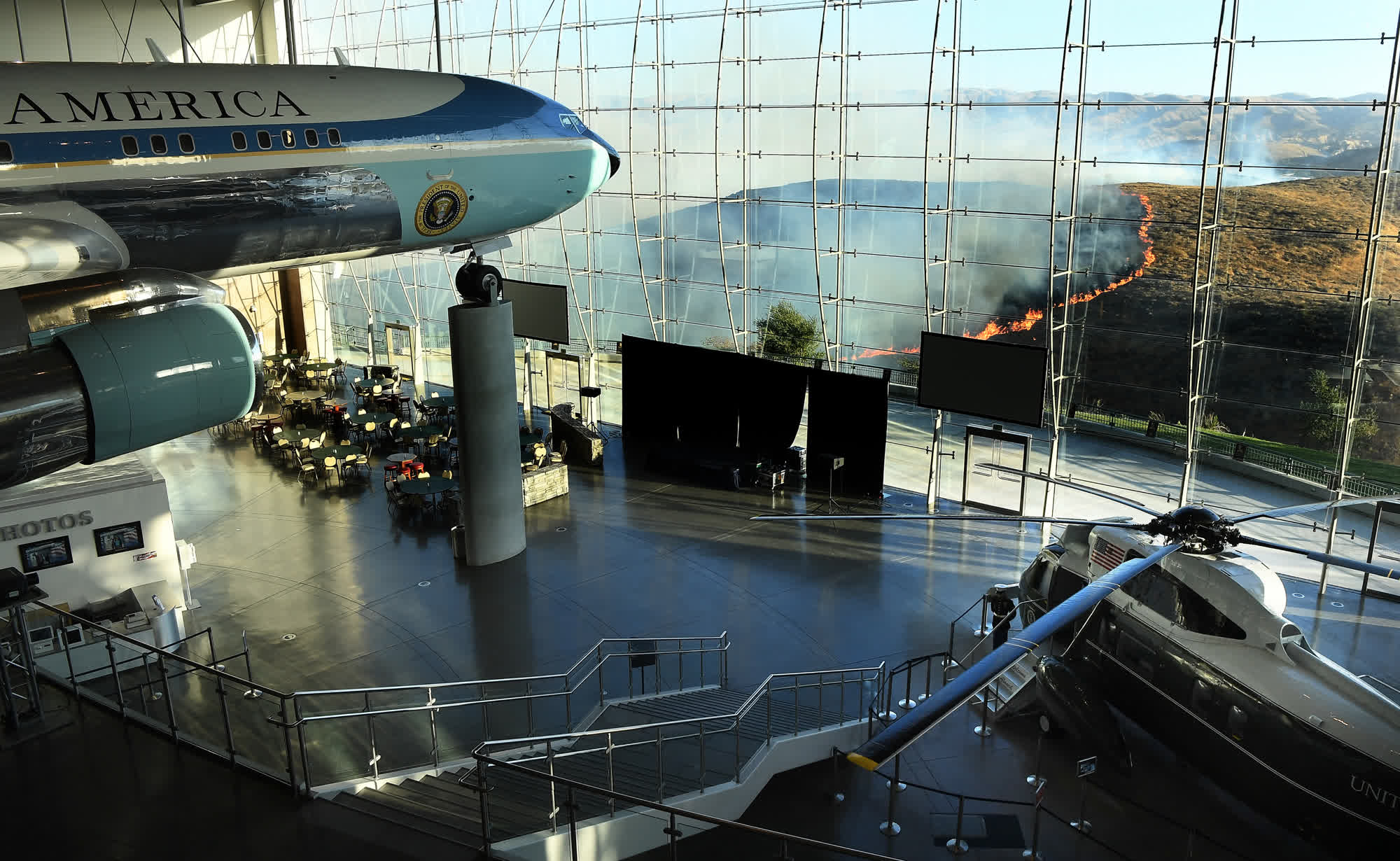 The Easy Fire, one of many wildfires burning across California, in October, is seen outside the Ronald Reagan Presidential Library in Simi Valley.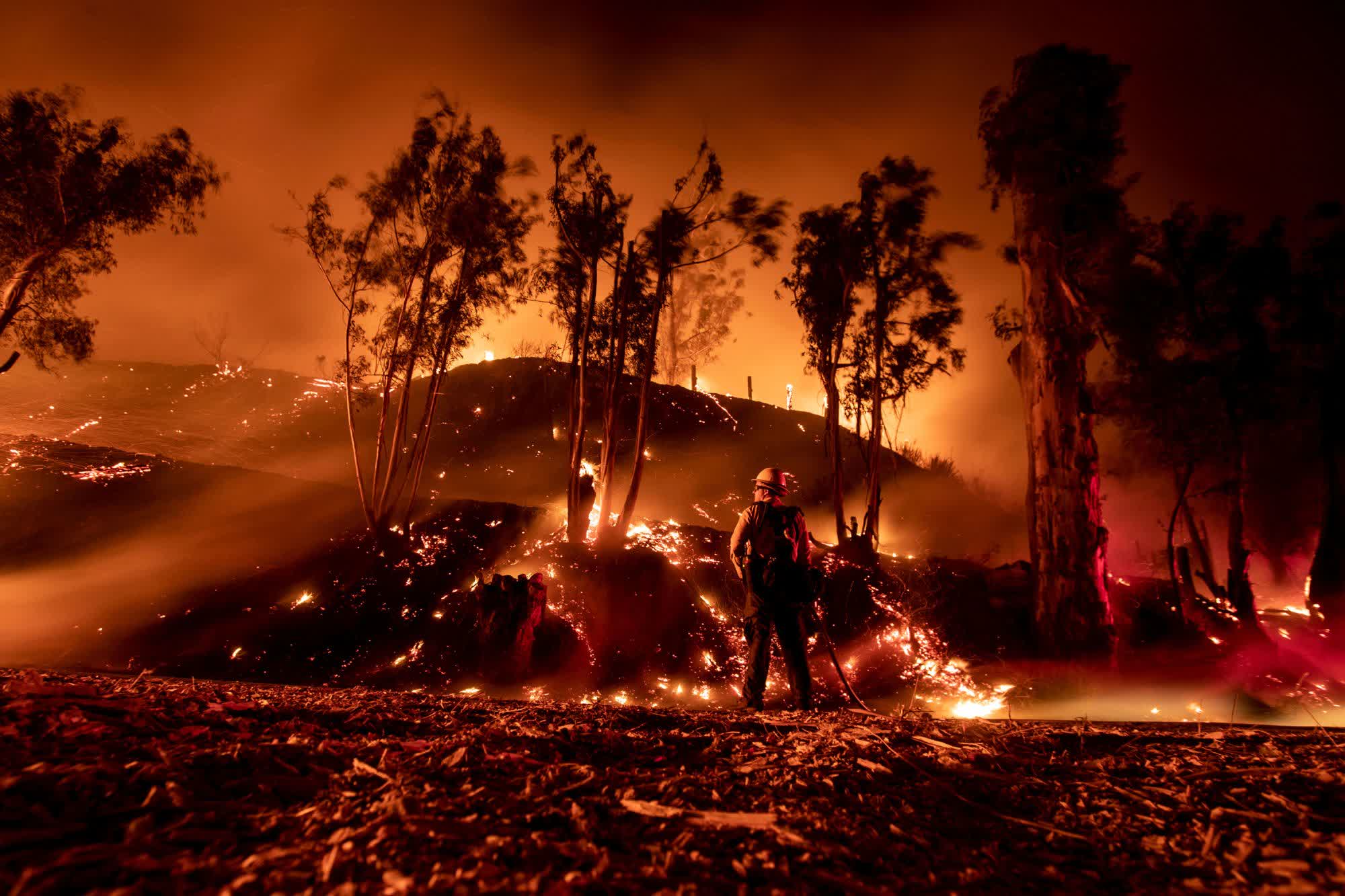 In November firefighters tried to containthe Maria Fire in the hills near Ventura, California.
In Europe, it were also youngsters who showed that they too could have such fire burning in them like we had in 1968. Last year the youth showed their ardour. They gave a strong voice for those who can not speak, plants and animals, and tried to put the nose of the politicians in the 'shit' or 'mud' they had created throughout the last decades. In a certain way their zest made me glad, to see those youngsters not minding coming on the streets week after week, to try to bring the politicians to their senses, showing the world we cannot go on like this, destroying our planet. The marches of the truants after a while got the grandparents joining their grandchildren demanding the politicians to take the global warming serious and to get out their lazy seats and chatter boxes in the end to do something to give our next generations a better world to live instead of that what is coming up on us like another natural disaster.
The 16 year old Swedish climate activist Greta Thunberg didn't mince words as she spoke to world leaders during the 25° UN Climate Change Conference. She accused them of not doing enough to mitigate climate change:
"For more than 30 years, the science has been crystal clear. How dare you continue to look away?"
At that conference it seemed unbelievable that within the United Nations Framework Convention on Climate Change (UNFCCC), dealing with greenhouse-gas-emissions mitigation, adaptation, and finance, signed in 2016, lots of the debaters and negotiators did not mind to work more against each other than with each other. The leader of one of the biggest polluting nations laughed it all away and considered himself at the most smartest person in the world, to break his contract with the rest of the world. Trump later mocked Thunberg on Twitter, and said all those protesting youngsters, instead of staying away from the schoolbenches shouting bullocks, would better go to attend school and get their brains in order. Lots of politicians, followed Trump in his sayings and said those youngsters would be better go to school. But these children have good reason to respond, asking those politicians what the use would be, to go to school and learn all those exciting and necesary things, when later nobody would be interested listening to what they would have to say, like no politician listens to the many scientists who warn how it now is already five over twelve, we seriously have something to do against global warming.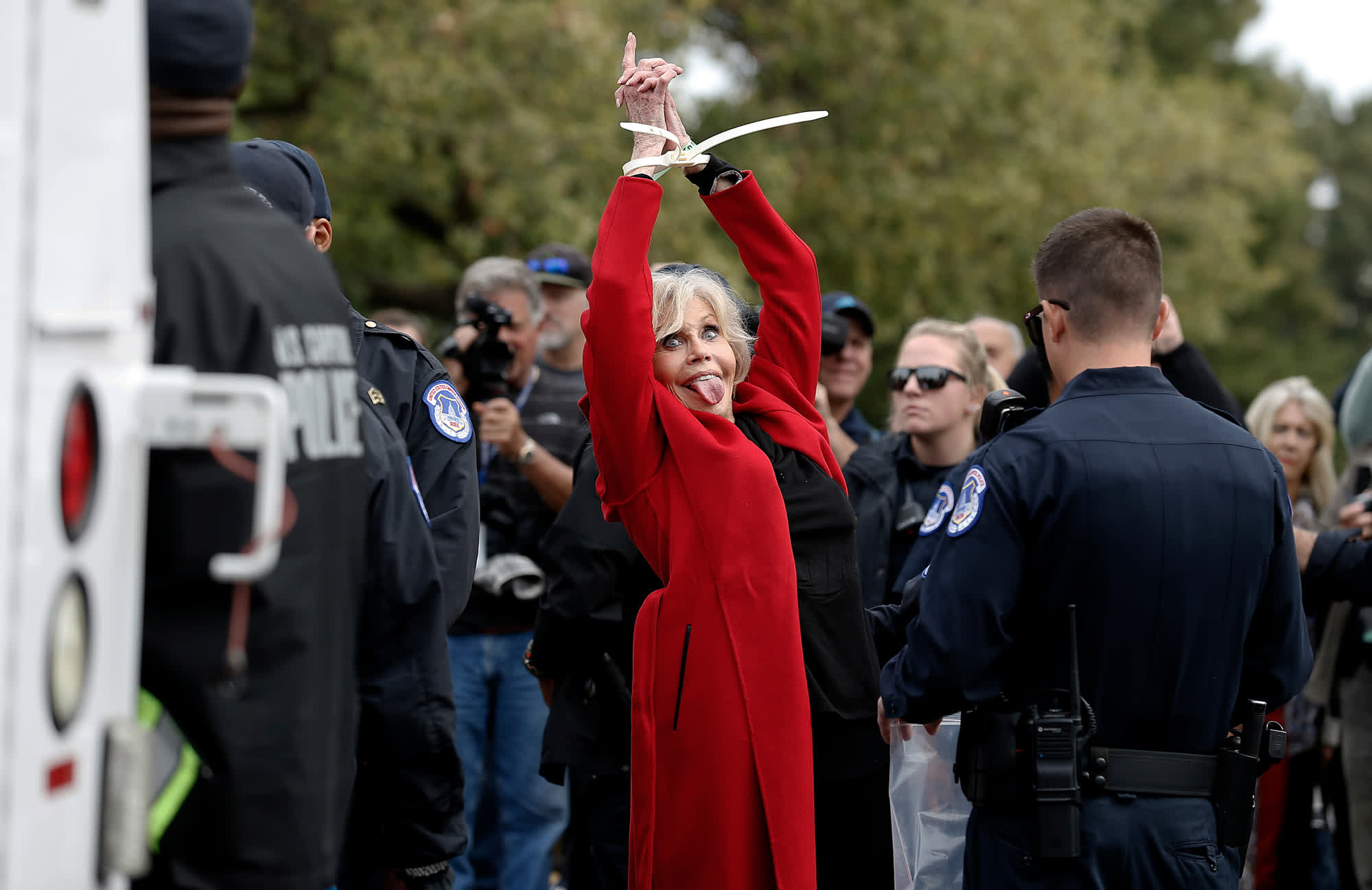 On October 25 actress Jane Fonda was taken away in ziptie handcuffs during a climate crisis protest at the US Capitol in Washington.
"We have to behave like our house is on fire, because it is,"
Fonda said, referencing a phrase often said by teenage climate activist Greta Thunberg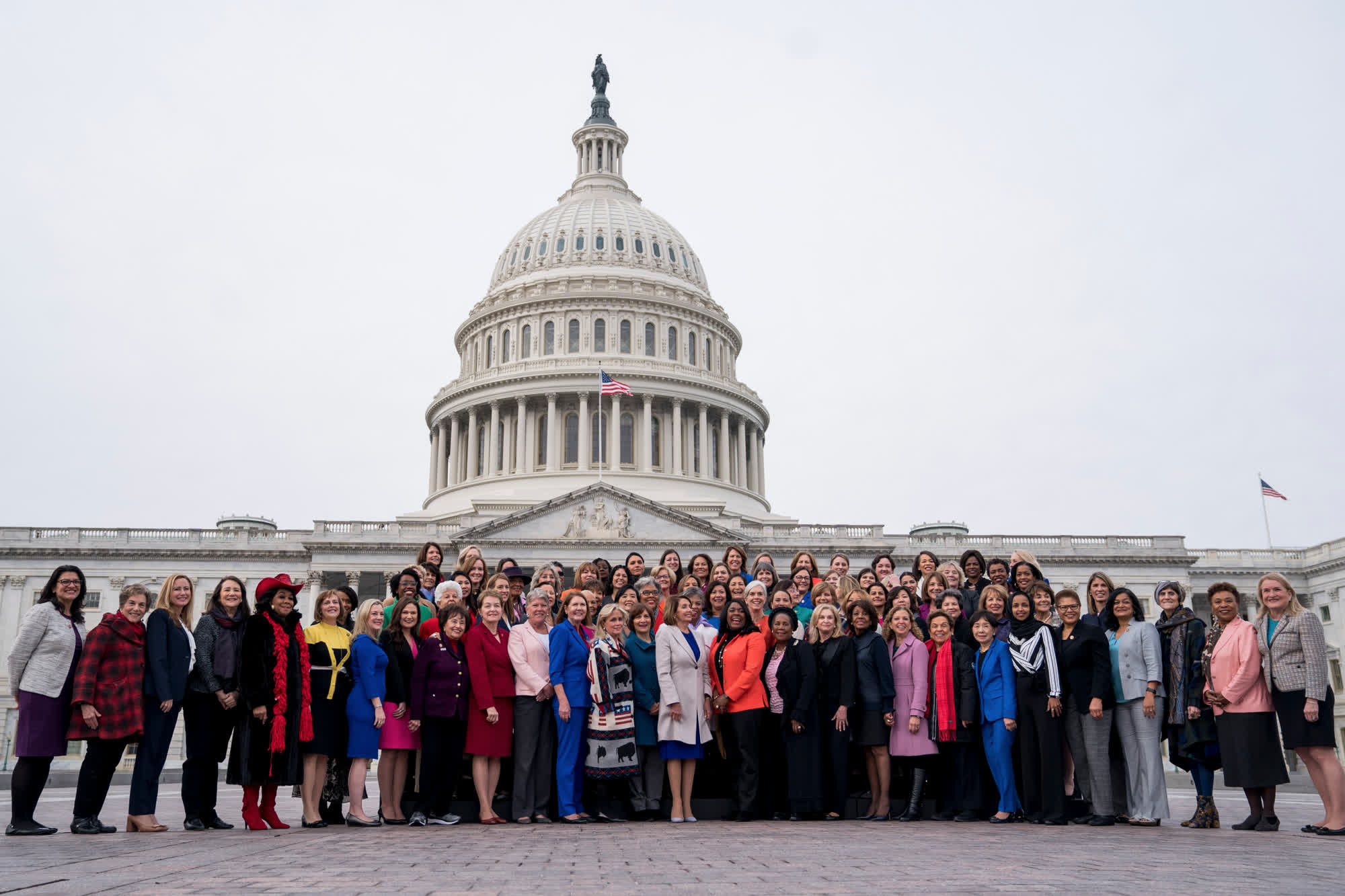 In the United States of America the man in charge of those states intentionally showed how he should be the man the whole world has to listen to and how he can decide how and when fires and fights can lighten the world.
In late December 2018 after the White House and Congress were at an impasse over money for a border wall, came the longest government shutdown in American history. Because of the record-long government shutdown, Trump's speech came a week later than originally planned.
House Speaker Nancy Pelosi was able to have a lot of Democratic congresswomen with here at the US Capitol. Though the record number of women elected to Congress were key to Democrats reclaiming the majority in the House, they did not succeed in getting the impeachment of that dangerous man in charge of their country. He laughed their effort away calling it "the greatest hoax."
With trump and circumstance on June 18 US President Donald Trump officially launched his re-election campaign with a rally in Orlando. His speech made clear that he plans to run on the same formula that narrowly delivered him the presidency in 2016. That same month Trump briefly stepped over into North Korean territory, becoming the first sitting US leader to set foot in that nation.
At last, in December, the House voted to impeach US President Donald Trump, almost entirely along party lines to charge this 45th president of the United States with abuse of power and obstruction of Congress.
The voice of that president of the so-called United States was able to disunite his country even more and created fertile ground for more racism.
US Reps. Ilhan Omar, Alexandria Ocasio-Cortez, Rashida Tlaib and Ayanna Pressley — lawmakers referred to on Capitol Hill as "the squad" were told they would better leave the United States and go back to the country were monkeys belong.
A day after President Donald Trump openly encouraged the four Democrats to leave the country, on July 15 they made clear in their news conference in Washington that they're there to stay. "I encourage the American people and all of us in this room and beyond, to not take the bait," Pressley said. "This is a disruptive distraction from the issues of care, concern and consequence to the American people.
The 21 year old Patrick Crusius opening fire in Wal-Mart, killing 22 people and wounding 24 was just one of the many cases against Hispanics. Only one day later after his attack, another shooting, this time in Dayton, Ohio, brought an end to his own sister and eight other people. This time it was not with a racist motive but just being fascinated by mass shootings, which seem to be common use in the land of the free.

On March 9, the world could see how members of the ShieldWall Network, a white nationalist group, were proud to burn a swastika and cross outside Atkins, Arkansas.
For me two of the main words for 2019 are "Intolerance" and "Populism". Europe was not saved from the fire against immigrants or people who behaved or looked different from others. That the world becomes less forbearing was validated by the many incidents in nearly all countries of the European Union and several other nations. Endorsement was provided by lots of bloodstained incidents. In several Eastern European countries the populist leaders managed to have their population join hands against all that are not like them.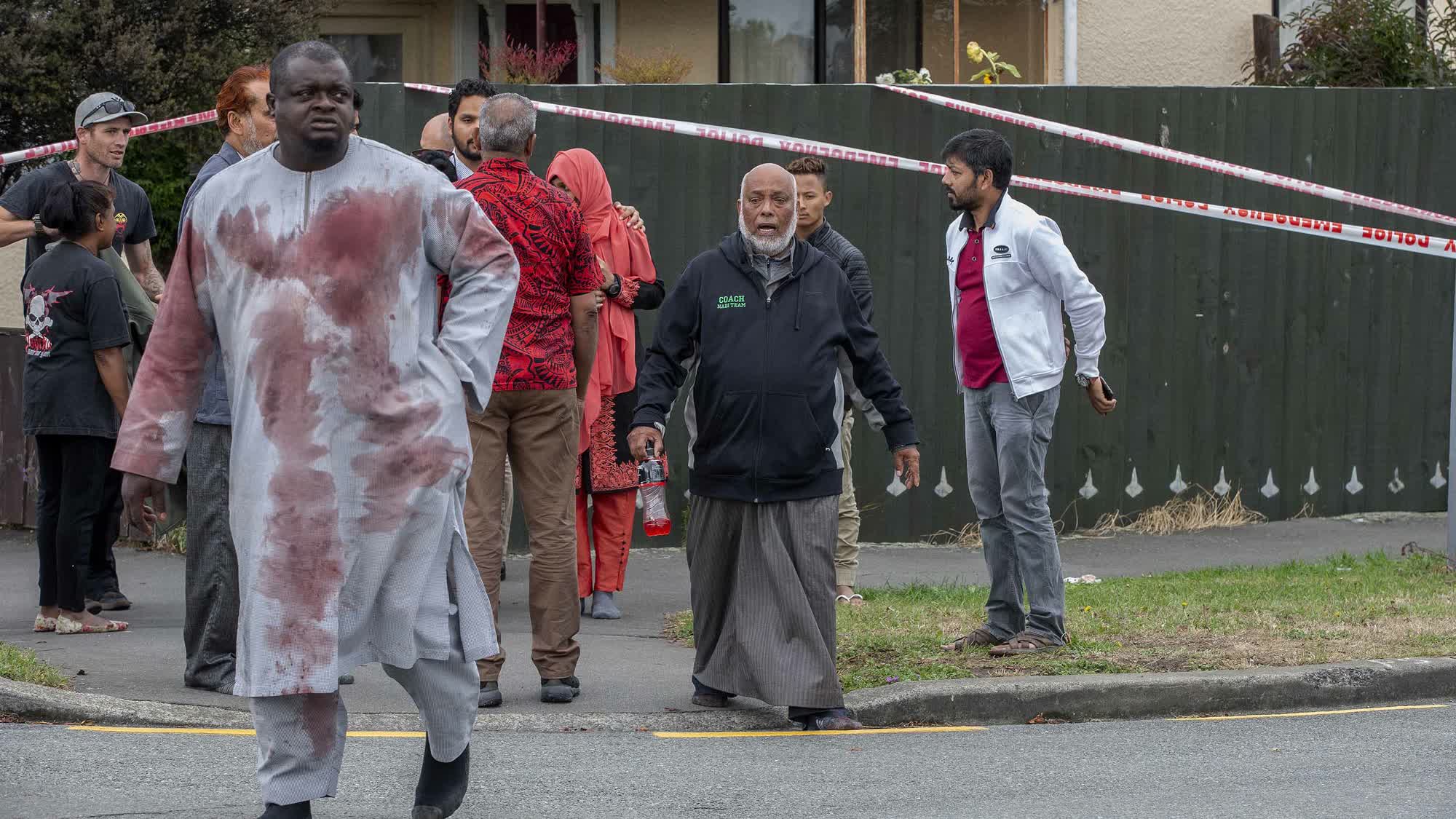 People of other religious thought than Catholicism got spotted, the same as gay people got attacked and transgender people debased and some literally mortified. Brenton Tarrant at the Linwood Mosque in Christchurch smeared the blood all over, to make it clear there should be no place for Muslims in the 'white man's world'. Showing his action by livestreaming on social media he killed 51 people and wounded 41 people seriously, as if it were little pegs in a shooting gallery. He has pleaded not guilty to all of the charges. His so-called manifesto, which was disseminated online ahead of the shooting, was filled with anti-immigrant and anti-Muslim ideas. It directed users to a Facebook page that hosted the live stream of the attack.
A wave of suicide bombings hit churches and hotels across Sri Lanka, on April 23, killing more than 250 people.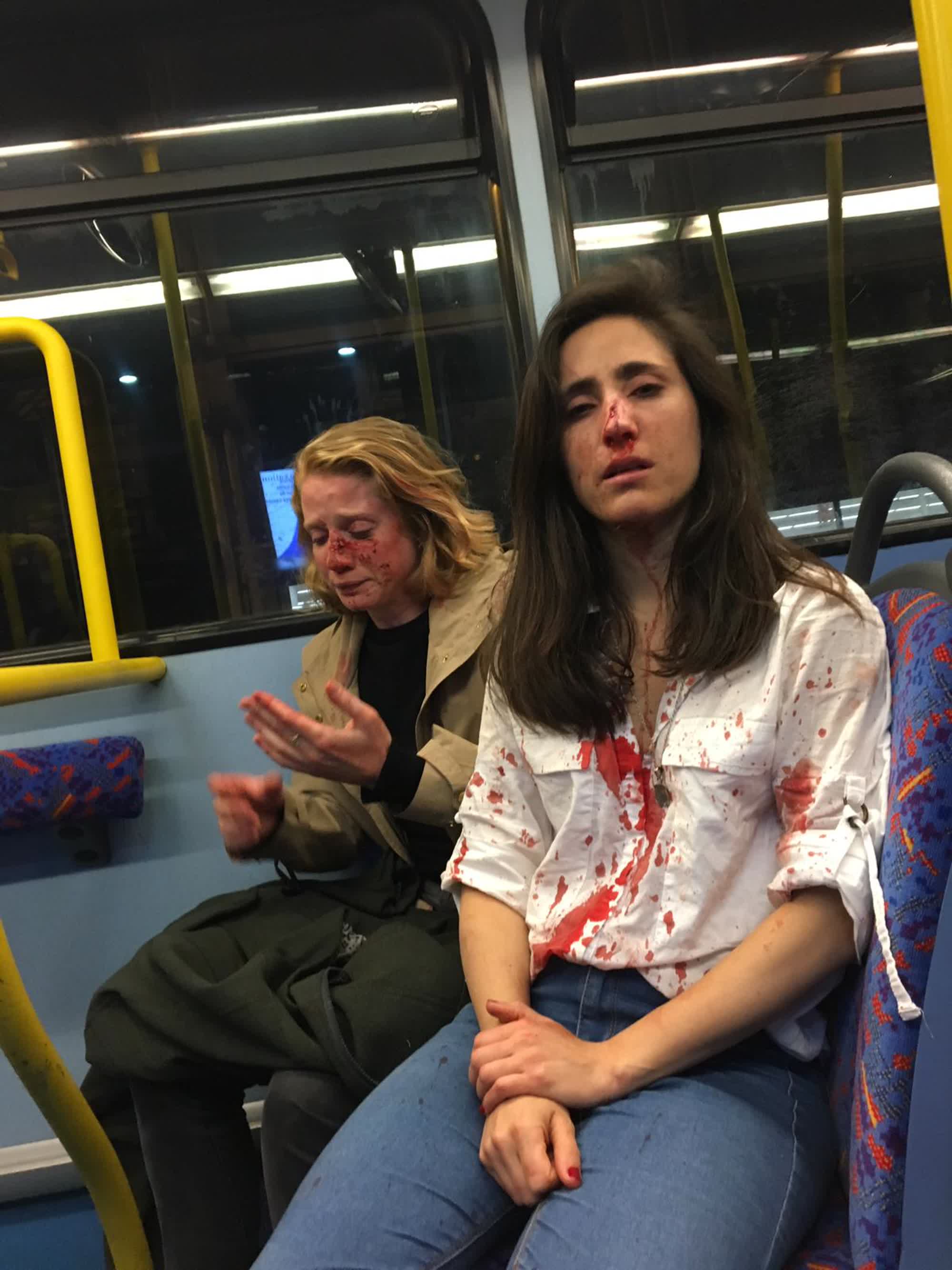 Melania Geymonat and her partner, Chris, are bloodied after they were beaten in a homophobic attack on a London bus. The Metropolitan Police said four males, aged between 15 and 18, were arrested on suspicion of robbery and causing grievous bodily harm. They were later charged with an aggravated hate crime under the Public Order Act. London's mayor, Sadiq Khan, condemned the incident, saying it was a "disgusting, misogynistic attack." In August, the teenage suspects pleaded not guilty to a charge of causing harassment by using threatening or abusive words or behaviour.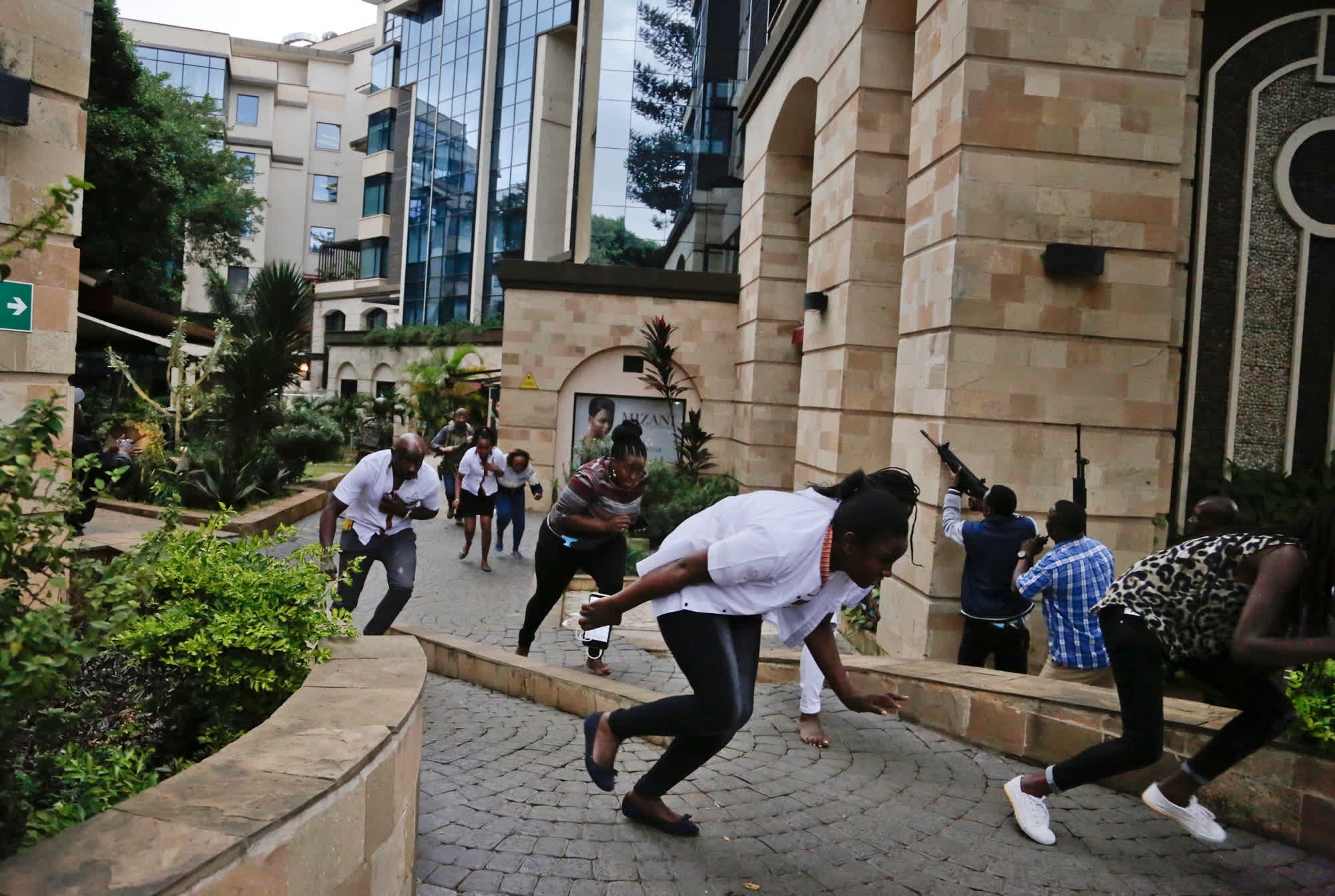 In Africa Al-Shabaab kept trying to pull the strings. Kenyan security forces battled the Somali extremists at regular intervals. After armed men launched a deadly attack, that killed at least 21 people, at a hotel complex in Nairobi, Kenya, on January 15, Kenyan security forces retook control of the compound.
2016 June 23 is a day imprinted in the minds of many Europeans as the black pest. 51,9% of the British voted for leaving the European Union. All the hassle and debate on how to arrange the Brexit created a disaster for the future of Great-Britain, probably causing in a few years the split of that union. On the 23rd of March 1 million people came on the street to give a voice to heir disgust how politicians were fooling them and playing with the future of their nation. May 24 British Prime Minister Theresa May said she deeply regretted not being able to deliver Brexit, the issue that brought her to power in 2016 and consumed her premiership. Boris Johnson receiving the seat got it as far, showing the world he will be able to make an end to it on January 31, 2020. Though he might forget it still is "The Never ending Story of Brexit".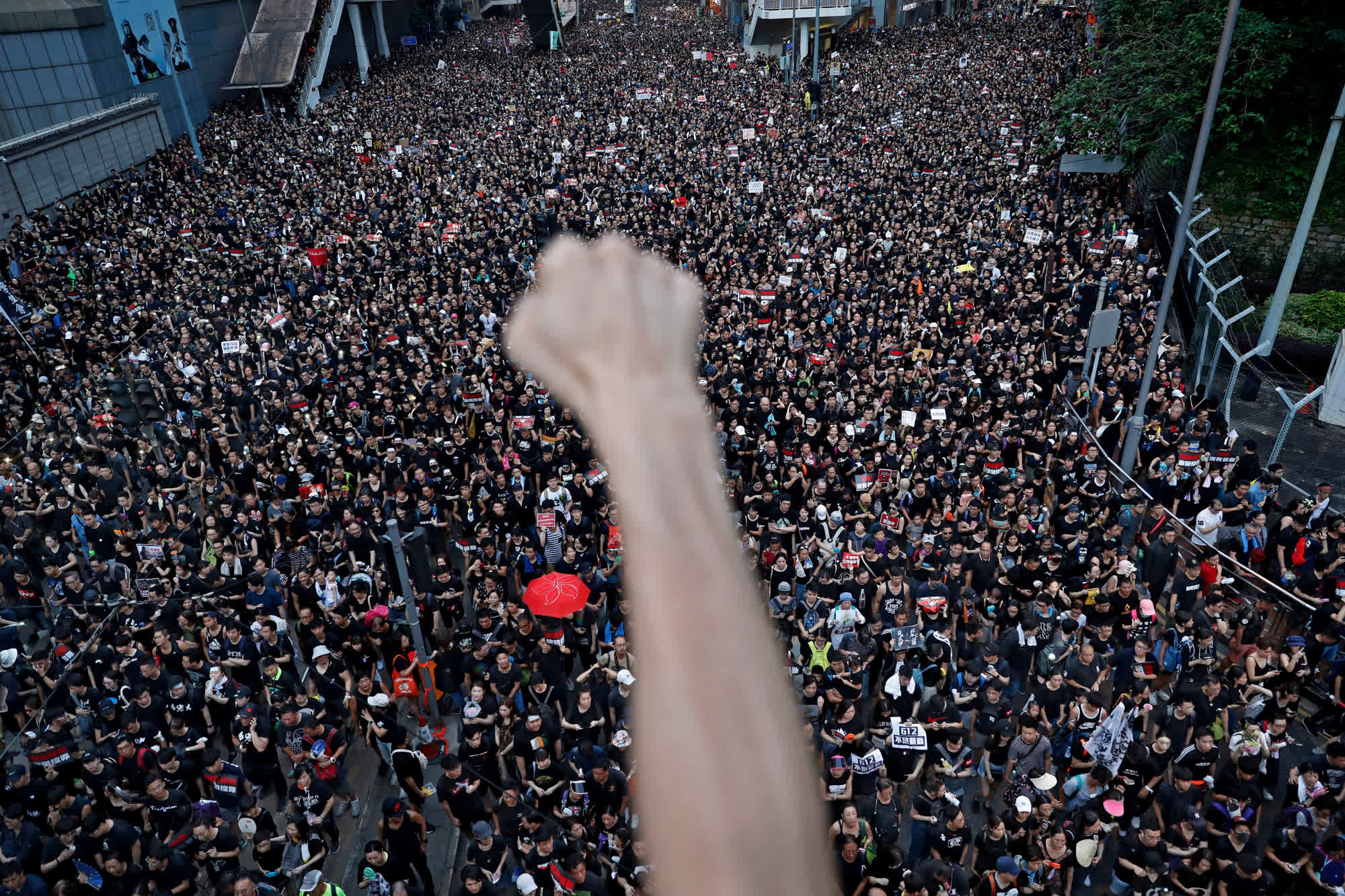 Hong Kong, 22 years after the handover from Britain to China, brought some other fire, having youngsters clearly showing their discontent with the grip of China on this tiny busy annexed part of China. Hong Kong's government attempts to rebuild its global reputation amid its disastrous handling of the city's epochal protest struggle, could not find a stronghold or ways to accept what China was doing with the ex-British colony and how it did not keep to the agreements of only a few years ago.
Starting with protesting a controversial extradition bill, from June onward the protests of the youngsters did not stop. Critics feared the bill would allow citizens to be sent across the border into mainland China. Hong Kong Chief Executive Carrie Lam withdrew the bill on September 4, but she refused to give ground on protesters' four other demands, which include greater democracy for the city and an independent commission into police conduct.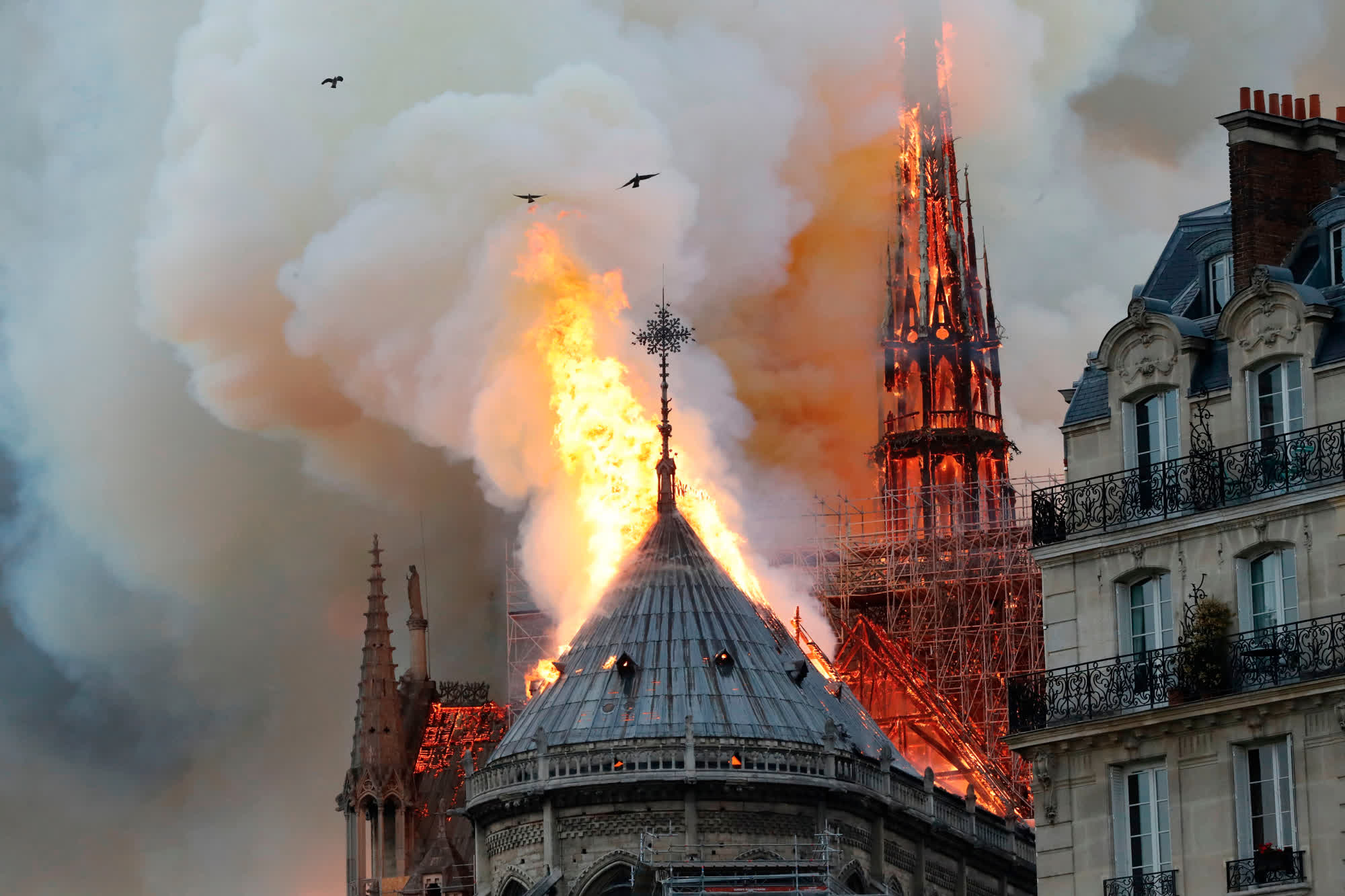 Another fire which many shall not forget was in Paris. On April 15 smoke and flames rose from the 850-year old Notre Dame Cathedral in Paris, destroying its iconic spire and roof.

A massive black spot was seen on Jupiter in September. It is actually a moon shadow. Jupiter's moon Io was eclipsing the sun at the time. NASA said the spot measured 2,200 miles wide — roughly the distance between New York City and Las Vegas.
Figuratively that black spot can stand for the many black spots which threaten mother earth.
++
Find also to read
Today's thought "Allowed to have dominion over the universe" (January 02)