The umpteenth coronavirus, of which many people even do not know the previous ones, this time as an unknown virus manage to frighten many people so much that they come to do unreasonable things, like rushing to the shops to load their shopping cart full of all kinds of non-time related items. Already for three days on BBC, EuroNews, VRT één, NPO 1, and VTM we could see excited people telling how they wanted to safeguard their family and want to prepare themselves for the worse.
At the same time they forget they were helping to give other opportunities to infect people, by coming together with so many and standing there for such a long time in a cue, very close to each other.
On What'sApp I received messages of what is going on with my fellow mates and workers in the airport. Last Sunday it looked more of an invasion, lots of people going on holiday, now when it still could be done, and now when they could find places less invaded by tourists. From Italy, pictures reached me, where I could see the empty places, otherwise infected by the many tourists, not giving others many opportunities to take a photograph also.
Today March 13, it looks more that our world is facing worse conditions and making deeper cuts than after the 9/11 and 3/22 terror attacks.
More than 80,900 people in China have been diagnosed with coronavirus since its emergence in the city of Wuhan, Hubei province, in December.
But there are now also 51,500 confirmed cases outside the country, according to the latest WHO figures. A rise in those numbers of daily confirmed cases of the new coronavirus internationally has led the World Health Organization (WHO) to declare its spread a global pandemic. But one may wonder if this would be a good reason for people to panic!
In a certain way, I can't stop thinking that some people have gone a little bit mad and rush into a fear going to buy lots of stuff 'before it is too late'. We can find people who think the end of the world is coming near and this is going to be worse than Ebola.
The World Health Organization has good reason to urge countries to act quickly and aggressively test to fight the novel coronavirus, but all countries should be careful not to create over exaggerated panic by their population. At the moment this clearly seems to happen.
Dr. Mike Ryan, executive director of health emergencies programme at the World Health Organization, recounted his past experience with Ebola outbreaks, with this advice:
"Be fast, have no regrets. You must be the first mover. The virus will always get you if you don't move quickly." 
Ryan said being prepared is paramount to keeping the virus at bay, adding,
"If you need to be right before you move, you will never win."

"Speed trumps perfection. And the problem we have with society at the moment is everyone is afraid of making a mistake. Everyone is afraid of the consequence of error. But the greatest error is not to move. The greatest error is to be paralyzed by the fear of error,"
Ryan warned.
What I could notice is that first, our politicians did as if nothing was at hand and that our country was prepared for it and had everything under control. A few weeks later, opposite to what they had said earlier, they confessed not having enough mouth masks nor having enough medical people to tackle the problem. In such circumstances who can blame people not having confidence any more in those politicians.
Also Dr Tedros Adhanom Ghebreyesus urged countries to use aggressive measures, community mobilisation and social distancing to save lives.
"Do not just let this fire burn,"
he said.
Dr. Maria Van Kerkhove, a WHO infectious disease epidemiologist, said if there are countries that are actively looking and doing aggressive contact finding and starting to report high numbers of cases,
"they shouldn't be punished from that."

"It's really important that we support countries in doing the right measures and sometimes that's going to mean that case numbers are going to increase,"
she said.
"In many countries, it's going to get worse before it gets better,"
Van Kerkhove added.
We should know that it is only by looking for real cases and then doing the necessary testing that we shall be able to turn the tide.
Italy came in the midst of a lockdown after the government implemented strict isolation measures to contain the spread of coronavirus, which has so far claimed more than 1,000 lives and infected more than 15 113 people in the country when I wrote my previous article on this virus, having today recorded its highest daily toll yet. There were 250 deaths recorded over the past 24 hours, taking the total to 1,266, with 17,660 infections overall. Thriving cities like Rome, Milan and Venice became ghost towns.
Spain, the worst-affected European country after Italy, reported a 50% jump in fatalities to 120 on Friday. Infections increased to 4,200.
Prime Minister Pedro Sanchez says a state of alert will come into effect there on Saturday for two weeks.
In the afternoon of March 13, more than 132,500 people have been diagnosed with Covid-19 in 123 countries around the world, according to the WHO.
The total number of deaths has reached about 5,000 – a figure Dr Tedros described as "a tragic milestone".
"Europe has now become the epicentre of the pandemic, with more reported cases and deaths than the rest of the world combined, apart from China,"
he said.
"More cases are now being reported every day than were reported in China at the height of its epidemic."
It going so fast and so bad several Western European countries decided to have a state of alert, not only demanding to avoid close contact with each other or to avoid crowded places, but demanding many places to shut down.
Belgium, France, Switzerland and parts of Germany are among the latest countries to close schools. And after the widespread curbs on large gatherings this afternoon I got to hear about measures to close theatres, museums, restaurants and bars.
Also other governments have halted flights from virus-hit nations, locked down towns, urged people to stay at home and suspended major sporting and social events.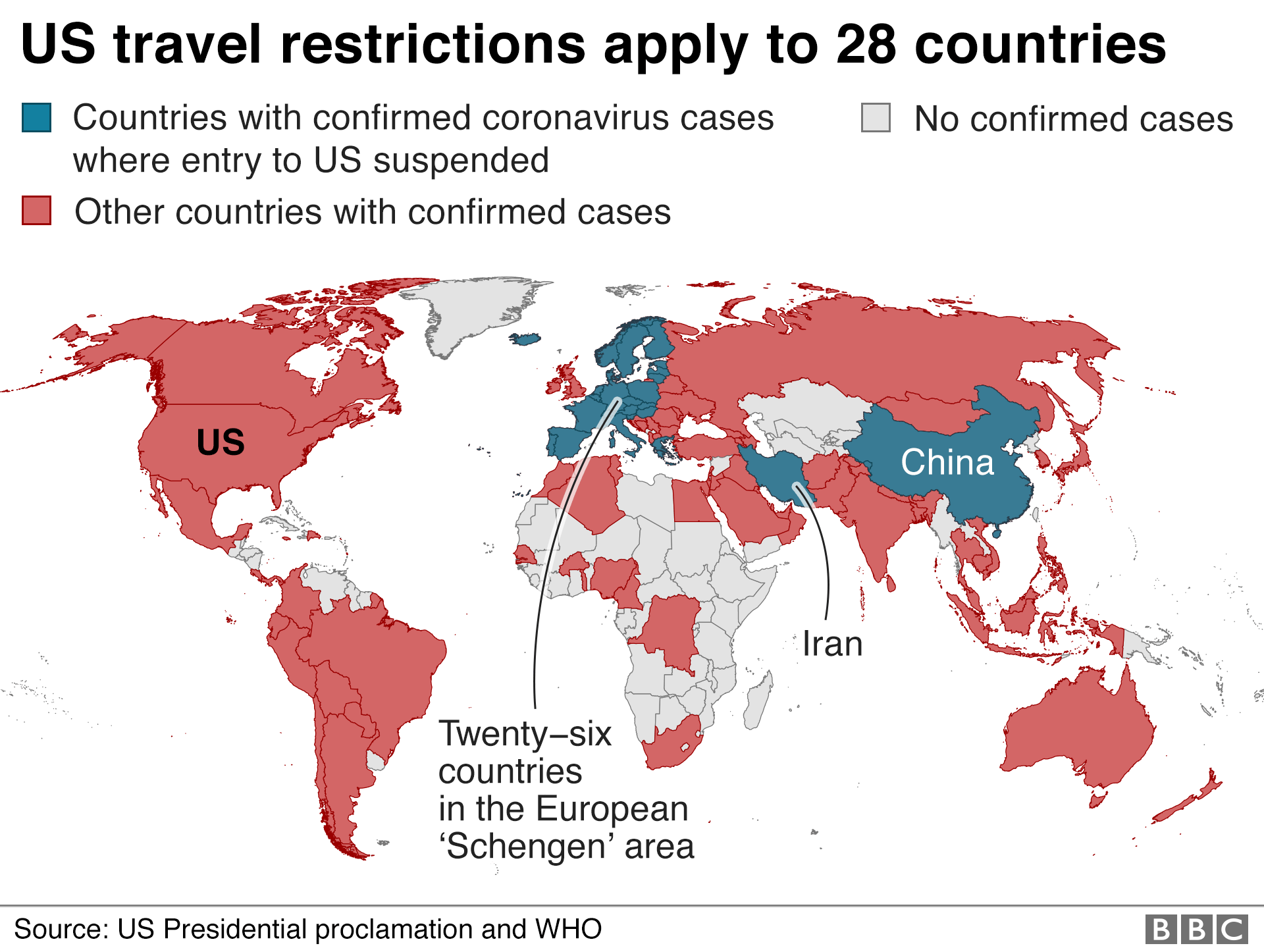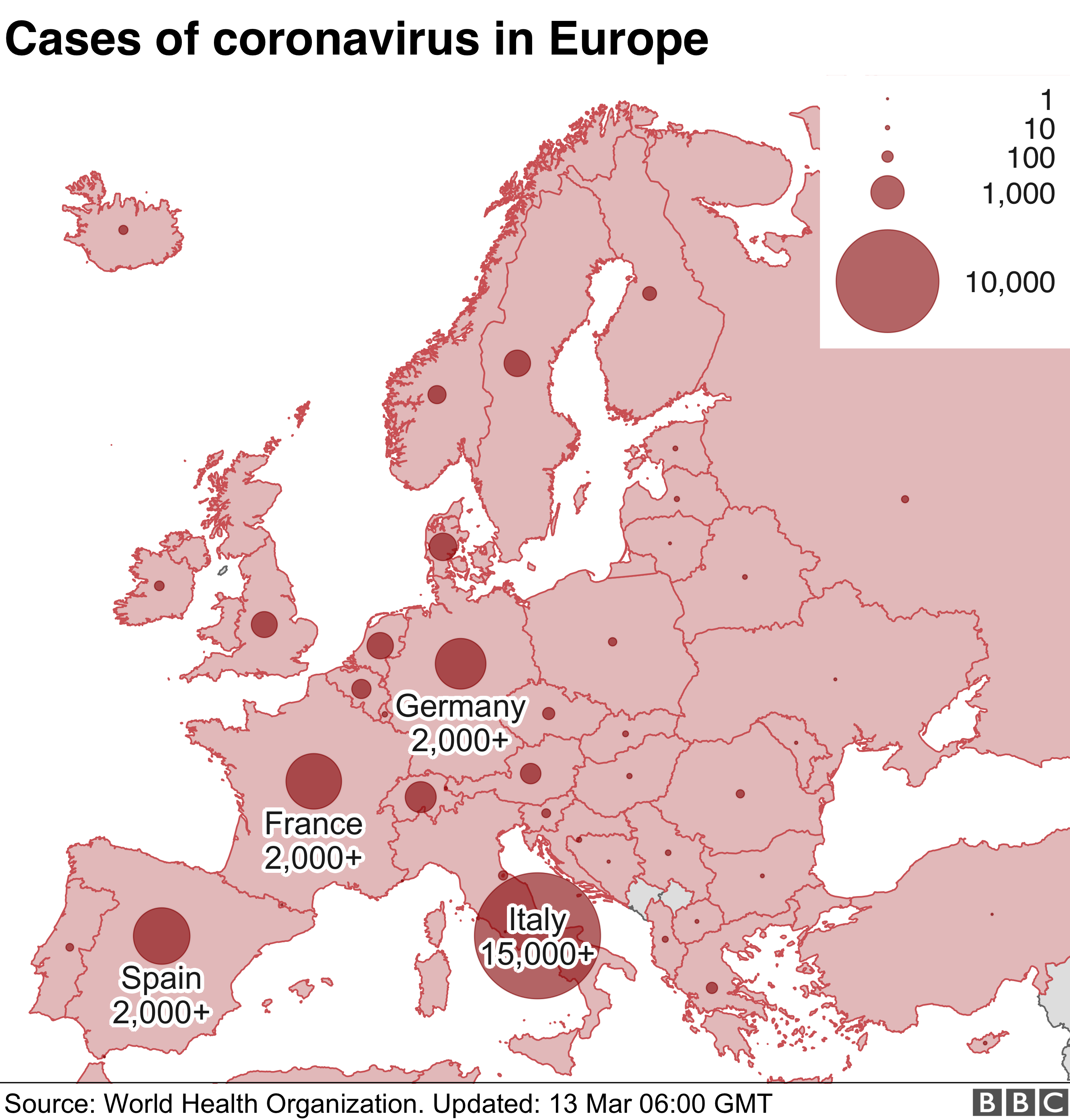 US President Donald Trump on Thursday announced travel restrictions on 26 European countries.
The measures apply to travellers from countries which are members of the Schengen border-free travel area. This is in addition to China and Iran.
+
Please read my other article of today, about CoViD19: Europe in Chaos for a Pandemic