Promotie ongelijk aan over iets vertellen
De verontrustende nieuwe hybride van democratie en autocratie
De Europese Unie moet duidelijk op haar standpunten staan betreft de verdediging van elk individu in de Europese Gemeenschap haar vrijheden.
Er moet ernstig op toegezien worden dat er vrijheid van meningsuiting is, maar ook dat er een vrijheid is om een geslacht en een partner te kiezen is.
Hongarije is voor ons echt een doorn in het oog. De laatste wetsvoorstellen vormen een reden waarvoor de Europese Unie volmondig moet op reageren dat Hongarije zich aan de waarden en normen van de Europese Grondwet moet houden.
Al meerdere jaren wordt de kerkbelasting door de regering op een verkeerde manier gebruikt. Namelijk om na te gaan waar de mensen hun gelovig hart ligt en niet voor de Katholieke Kerk gaan. Ook al kunnen bepaalde kerken wel voldoen aan de opgelegde eisen, wordt het hun verder moeilijk gemaakt om naar buiten te komen en meer leden trachten te verwerven. Eveneens weet de regering dan bij welke kerk een gevangen aanleunt en weten ze zo de predikers van die kerk het bezoekrecht te verbieden.
Mensen met een ander geloof dat de 'Staatsgodsdienst' maar ook met andere gevoelens dan de grote meerderheid worden in het oog gehouden en zelfs geïntimideerd. Al jaren viseren ze die "anderen" en voorziet de Hongaarse regering wetten om die mensen nog meer te viseren en te gaan vervolgen.
Joden en unitaristische gelovigen lopen een risico. Maar onlangs heeft de Hongaarse regering ook een wet voorzien die het bespreken van anders geaarde mensen onmogelijk te maken. Sommige regeringsleiders beweren wel dat die wet die andere groepen niet verbied, maar enkel aan geeft dat het onderwerp in de scholen niet mag aangeraakt worden.
Dinsdag hebben dertien lidstaten van de Europese Unie in een gezamenlijke verklaring de nieuwe Hongaarse wet die de "promotie" van homoseksualiteit verbiedt veroordeeld. Het was een reactie op de goedkeuring door het Hongaarse parlement van een aantal amendementen op bestaande wetten die een verbod instelt op 'het afbeelden en propageren van een andere genderidentiteit dan het geslacht bij de geboorte, geslachtsverandering en homoseksualiteit' voor personen jonger dan 18 jaar.
Hongarije heeft een lange geschiedenis van belangrijke bijdragen aan kunst, muziek, literatuur, sport, wetenschap en technologie Het mag dan en prachtig land zijn met een prachtige cultuur en zeer mooie Hongaarse dansen, de openheid van vroeger (in de jaren 70-80 van vorige eeuw) is ver te zoeken. [Ik heb ook het geluk genoten vele van die dansen te mogen leren bij een uitstekende Hongaarse leerkracht, en meerdere notities in het Hongaars te noteren, die ik nu zo vele jaren spijtig genoeg zelf niet meer kan lezen (verstaan)] Het land biedt zo veel moois, maar voor vele mensen doemt er sinds het nationaal-conservatieve Fidesz van Viktor Orbán een parlementaire supermeerderheid kreeg in 2010 , een erger gevaar dan de vroegere controle onder het communistisch regime.
Na de val van het communisme leek het er op dat Hongarije het liberalisme ging omarmen. Erg genoeg sloegen bepaalde groepen er in grootschalige privatisering door te voeren, in plaats van bepaalde zaken als staatsbezit te houden. Onder leiding van de MDF domineerde het programma van de eerste democratisch gekozen regering van het postcommunistische Hongarije, en zochten bepaalde figuren kansen schoon om zich te gaan verrijken. Zoals wij in vele andere communistische landen konden zien grepen daar vele criminele figuren naar voor, die er in sloegen zich zeer goed te verrijken. Zelfs steungelden van de Europese Unie kwamen zo terecht in de verkeerde handen. (Waaronder twee broers van  Orbán die in de juiste postitie zaten om met voorkennis te kunnen handelen.)
In de jaren negentig gingen de privatiseringsgolven verder onder de coalitie van de socialisten en liberalen. Een jonge Viktor Orbán ging in de tweede helft van het decennium van liberaal naar nationaal-liberaal, maar hij schuwde het etiket desondanks niet.
Onder hem bracht de wetgevende macht een nieuwe grondwet die naast andere ingrijpende gouvernementele en juridische veranderingen een versmachtende greep legde op de rechten van de mens. Hoewel deze ontwikkelingen tot controverse leidden en nog steeds leiden, verzekerde Fidesz zich van een tweede parlementaire supermeerderheid in 2014 en een derde in 2018. Vanuit allerlei kanten kwam er kritiek  op de autoritaire regeerstijl van Orbán, die het aantal zittingen van het parlement verminderde en probeerde de macht van de parlementaire meerderheid te vergroten.
Zij die te veel kritiek uitten werden het zwijgen opgelegd. Hiertoe werd ook gebruik gemaakt van Viktor Orbán's opzettelijke vervorming van het medialandschap door het doorsluizen van overheidsgelden naar regeringsvriendelijke mediakanalen – evenals de publieke omroepdiensten die de regeringspropaganda echoën.
Naast de media wil Viktor Orbán het onderwijs volledig onder staatscontrole krijgen en heeft nu beperkingen opgelegd om over bepaalde onderwerpen te spreken.
Hiernaast kan men ook waarnemen dat er pogingen worden ondernomen om internet, IT en nieuwe technologieën te manipuleren. Orbán verdedigt zich hier over met te zeggen dat deze kinderen slecht kunnen beïnvloeden.
Duidelijk is dat Orbán alle macht op alle vlakken naar zich toe wil trekken.
Ook al stemde op 12 september 2018 het Europees Parlement voor een strafprocedure (artikel 7) tegen Hongarije leek dit van geen tel voor de regerende Hongaarse Partij die op 30 maart 2020 bij wet Orbán uitgebreide macht gaf om bij decreet te regeren. Hierdoor mocht de Hongaarse regering onder andere onbeperkt de noodtoestand verlengen om het coronavirus te bestrijden.
Als lid van de Hongaarse Gereformeerde Kerk (calvinistisch) is hij van een ongelovig iemand tot een 'christen kruisvaarder' uitgegroeid, die alle mensen uit zijn land wil weren die niet in het 'zuivere Christelijke plaatje' vallen. Zijn vrouw, de juriste Anikó Lévai, en hun kinderen zijn rooms-katholiek.
Alexander De Croo (Open VLD) durfde het aan om in zijn parlement fors naar een andere lidstaat van de EU uit te halen. Hij greep de kans war om bij Europa in het Belgische halfrond om dringende maatregelen tegen Hongarije te vragen. Men kan zeggen dat het wel hoog tijd werd dat er een minister zijn mond durfde open te doen tegen wat er gaande is in Hongarijë.
Na de onafhankelijke rechterlijke macht, de vrije pers, migranten en de Joods-Amerikaanse filantroop George Soros wiens Open society-model werd afgewezen, is de lgbtq-gemeenschap in Boedapest kop van Jut. Het is voor De Croo blijkbaar de druppel die de emmer laat overlopen. Ook al mag de autoritaire Hongaarse premier Viktor Orbán geen graten in de wet zien, zijn het de andere regeringsleiders die zijn ogen moeten open doen en hem aan het verstand brengen dat in de Europese Gemeenschap de mensen hebben verkozen om voor eenheid en respect te gaan voor alle burgers, welke kleur of genegenheid zij ook maar mogen hebben.
Europa moet duidelijk een standpunt tegen de nieuwe wet innemen. Die wet is niet zo onschuldig als Orban mag doen voorkomen, want ze is duidelijk bedoeld om niet enkel misbruik van kinderen zwaarder te straffen maar ook om kinderen en jongeren te straffen die een relatie aan gaan welke in de ogen van de conservatieve regering niet kan. In de wet is namelijk tersluiks een verbod opgenomen om wie jonger is dan 18 jaar op school, op televisie, in films of advertenties 'bloot te stellen' aan wat als 'propaganda' voor homoseksualiteit wordt beschouwd. Zwaaien met een simpel regenboogvlaggetje is daarvoor al genoeg of foto's plaatsen op sociale media van contacten met personen van gelijke sekse worden hierdoor strafbaar. Dat stigmatiseert mensen en zet de deur open voor meer discriminatie.
Mensenrechtenorganisaties reageerden al scherp en ook Europees Commissievoorzitster Ursula von der Leyen haar lichaamstaal was al voldoende en liet van zich horen. Gisteren was er ook een besluit van de UEFA dat aantoont hoe bij sommigen het geld primeert, dat bij Eurocraat Guy Verhofstadt de das omdeed nadat het verzoek van de burgemeesters van München om het stadion van München in de regenboogkleuren of Pride Colours te verlichten, door het voetbalorgaan was afgewezen.
Minister Sophie Wilmès onderstreepte dat België het voortouw voor de verklaring heeft genomen.
'Wij hebben een collectieve verantwoordelijkheid om de rechten van alle EU-burgers te beschermen, en daarom hebben wij de plicht onze stem te laten horen en te reageren wanneer deze rechten en onze waarden worden ondermijnd. We hebben ook de plicht om het onze partners te zeggen wanneer we er diep van overtuigd zijn dat zij de verkeerde weg zijn ingeslagen',
stelt de minister in een persmededeling.
De regeringsleiders van de Europese Unie moeten nu toch eens gaan inzien dat er niet enkel een groot probleem bij Hongarije is. Orban haalde voor zijn antihomowet namelijk inspiratie bij zijn christelijk-conservatieve vrienden in Polen en bij een Russische wet uit 2013 over zogenaamde homopropaganda, die daar tot geweld tegen lgbtq-mensen heeft geleid.
Het gevaar dat wij over meerdere staten zien oprijzen is de uiterst rechtse houding met een bekrompenheid van geest. In het Oosten van Europa zien wij een duidelijke afscheiding van onze meer liberale of vrije gedachten van het mensengoed. Slovenië en Tsjechië schrikken er niet voor terug om in de voetsporen van Hongarijë te stappen.
Opmerkelijk was ook dat tijdens een wedstrijd in het kader van het Europees kampioenschap voetbal tussen Hongarije en Portugal in Boedapest in het publiek spandoeken met homofobe slagzinnen werden ontvouwd. Na een klacht daarover bleef het bij de Europese voetbalbond UEFA stil. Spelers dragen wel het woordje Respect op hun mouw, maar als het erop aankomt, is dat er dus niet.Ook om te beweren dat er geen politiek mag zijn in dit wereldkampioenschap is maar een zeer zwak excuus van de voetbalbond. Het gaat hier niet om een politiek statement maar om mensenrechten.
De Croo heeft gelijk:
het is hoog tijd dat de Europese Unie een lijn in het zand trekt.
Het is nu nog maar een Hongaarse kwestie, maar als wij niet opletten wordt dat Hongaars virus nog een ergere kwaal dan het Coronavirus en ondermijnt het de hele Europese Unie.
Als Orbán en zijn volgelingen hun zin krijgen, heeft de pas opgestarte Conferentie over de Toekomst van Europa geen reden van bestaan. Er zal dan namelijk geen toekomst voor Europa zijn. Nu kunnen wij al een duidelijke scheiding zien tussen Oost- en West Europa.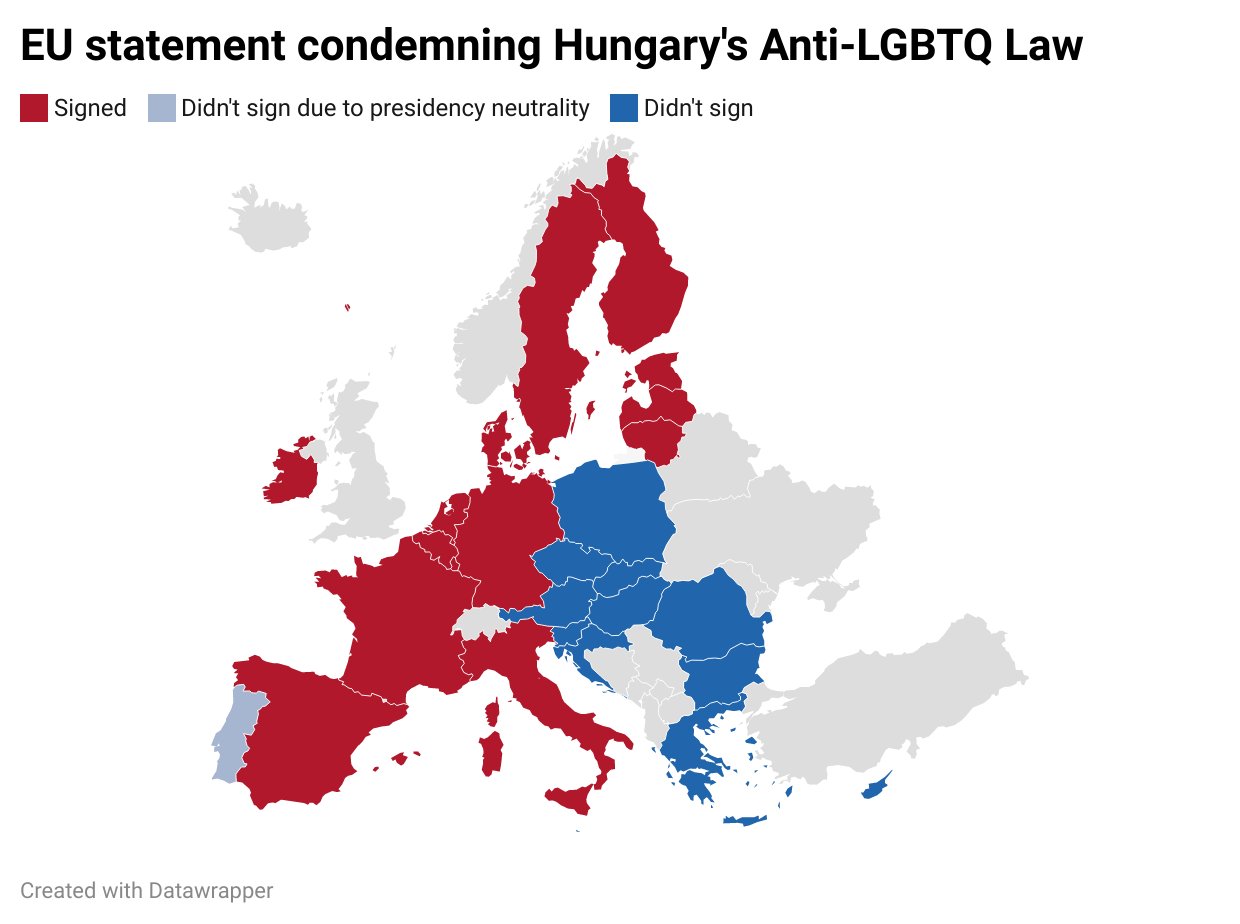 +
Voorgaande
Gemelde antisemitische voorvallen neemt toe
++
Aanvullend
+++
Gerelateerd
Sublieme vraag en dus ruimte om een groot misverstand recht te zetten: want 'gekozen' dictatoren horen niet thuis in EU @CarolineGruyter @nrc #eu #hongarije @EU_Commission
Charles Michel heeft geen recht van spreken zolang hij geen vrede brengt tussen Orbán en Frans-Duitse as én het voorzitterschap van de Commissie veel zwaarder is dan Raad @fd #eu @vonderleyen @EU_Commission