Ursula von der Leyen will use all legal powers to ensure that the rights of all EU citizens are guaranteed
Yesterday we got some very good news from the European Commission. The European Commission will take action against Hungary over planned new restrictions on LGBT rights, the head of the bloc's executive announced on Wednesday, saying they violated fundamental EU values.

This Hungarian bill is a shame. It discriminates people on the basis of their sexual orientation & goes against the EU's fundamental values. We will not compromise. I will use all the legal powers of 

@EU_Commission  to ensure that the rights of all EU citizens are guaranteed.

It is very important to ensure that the EU would not compromise on principles such as human dignity, equality and the respect for human rights. Von der Leyen has instructed her responsible commissioners to write to the Hungarian authorities expressing the EU their legal concerns before the bill enters into force.
European values and UEFA sport values
German Chancellor Angela Merkel on Wednesday called the bill wrong and not compatible with her ideas, while her Christian Democrat Party's most prominent gay politician, Health Minister Jens Spahn, vented his anger about UEFA. It is also funny that last year at the Pride parade in Amsterdam the UEFA had also a vessel in the parade; and now they say the sport may not interfere in such matters. The German Football Association (DFB) and the Mayor of Munich wanted to light up the Allianz Arena before and during the Germany v Hungary match. UEFA denying a request from the German Football Federation and Munich's mayor Dieter Reiter for the Allianz Arena to be lit up in rainbow colours for their clash with Hungary in Group F on Wednesday because of the political motives behind the proposal, showed clearly where the main aim or goal is for the UEFA. They are just interested in gaining as much money as possible and want to come over sympathetic to all who they can attract or where they can gain interest rather than lose. From different sides and organisations voices sound that it is "simply wrong" of UEFA to deem gestures aimed at challenging LGBT+ discrimination to be political acts.
Leading LGBT+ groups in Germany, Turkey, Poland, Portugal, France, Slovenia, Russia, Finland, Spain and Italy have also signed the letter which hits out at UEFA for a lack of "action" concerning potential discriminatory incidents during Hungary's first two Euro 2020 games at the Puskas Arena, and the decision to prohibit the Munich Stadium from being illuminated in rainbow colours.
The letter read:
"Dear Mr Ceferin, President of UEFA. We are an independent grouping of LGBTIQ community groups concerned with combatting homophobia in football, using football and other sports as a tool to tackle discrimination, and working with LGBTIQ groups to overcome exclusion of our communities across Europe.

"We write you as the head of UEFA about our general concerns at the rise of homophobia in football in many countries within UEFA jurisdiction in recent years and also about the Euro 2020 tournament.

"We have been alarmed by examples of homophobia during Euro 2020 with banners and chants in evidence in some stadiums. Most notably we have been concerned about the way in which supporters of Hungary have been using their government's legislative framework to sing songs and raise banners mocking and denying the rights of the LGBTIQ community to exist.

"I am sure you will agree that the human rights of minority groups are to be respected within civil society, and any examples of those rights being challenged within popular public arenas, such as football matches, should be acted upon.
After all the commotion and feeling the hot breath, understanding they were losing sympathy by their targetted public of football fans, they yesterday evening posted a rainbow picture on Twitter. Suddenly it seems also not a political symbol, but a symbol that embodies their core values?!? For the moment we can only see that it has taken a hypocritical attitude and twas concerned about its 'imago'.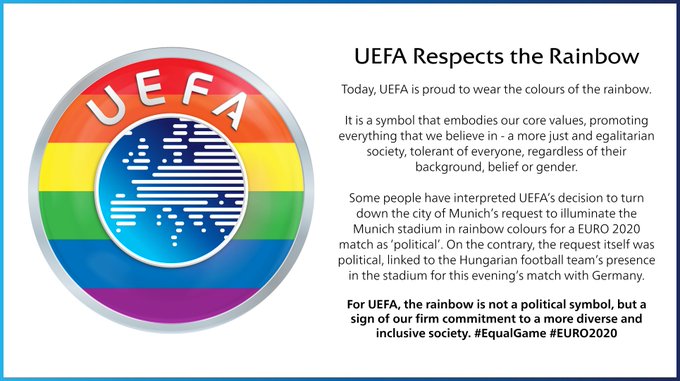 It is, by the way, completely irrelevant whether this is a political statement or not. There is no neutral option: You either allow Munich to light up the stadium in favor of human rights or you deny it, as you did, in favor of homophobes. You picked the homophobes.
UEFA also gives a wrong sign as if it would be alright to show you want people to accept queers or want to show the rainbow colours when there is no football match against a country with an homophobic government, but when it are players from a discriminating country no contra-voice or sign may be given.
Christian Christensen his reply says it all
The UEFA decision says that the Hungarian Parliament can decide that certain human rights are even "debatable." Here's the problem.
It may well be that UEFA is not a homophobic organisation but Ceferin defending UEFA's stance over the incident, claiming European football's governing body does not want to partake in "populist actions" is not willing to see or understand the importance of equal rights for everybody everywhere, be it in normal civic life or in sports.
The debate about the law has divided EU countries, largely along an east to west line, with the more socially conservative governments so far unwilling to come out against the Hungarian, right-wing Prime Minister.
In any case it is good now already 17 EU member states *, has their leaders oppose the violation against human rights. More than half of the EU member states, declared their complete support for defending the rights of LGBTQ people today, following the passing of a controversial law in Hungary.
*
(Belgium, the Netherlands, Luxembourg, Germany, France, Spain, Portugal, Italy, Greece, Cyprus, Malta, Ireland, Estonia, Denmark,  Latvia, Finland and Sweden)
+
Preceding
Hungarian undermining of European freedoms
Also you can use your voice to give a clear signal about Hungary and human rights
+++
Related