The man who has made himself a standard-bearer of the non-truth or to be the specialist distorter of the truth, now claims to be opening a social medium where the truth will be told for once, as this is not possible on Facebook and Twitter (according to him).
Social media firms were under pressure throughout Mr Trump's presidency to ban him, with his posts criticised as insulting, inflammatory or peddling outright falsehoods.
Having been banned from Facebook and Twitter, after the January riots, which followed a speech in which he made baseless claims of electoral fraud, the biggest weapons to spread his lies are taken away.
Earlier this year, he launched From the Desk of Donald J Trump, which was often referred to as a blog. That blog did not seem to attract enough viewers and was permanently shut down less than a month after it launched after attracting only a fraction of the audience he would have expected through established sites.
"We live in a world where the Taliban has a huge presence on Twitter, yet your favourite American President has been silenced,"
wrote Mr Trump.
"Everyone asks me why doesn't someone stand up to Big Tech? Well, we will be soon!"
he added.
Having his eyes set to 'coming back' for the next presidential election, he has put his goal to rival the tech companies that have denied him the megaphone that was paramount to his rise.
"I'm excited to soon begin sharing my thoughts on Truth Social and to fight back against big tech,"
Trump said in a statement.
I wonder to what extent he is aware of how he himself will now be confronted with the same dilemmas as Facebook and Twitter, and how he will deal with contradictory language and verbal abuse.
His conditions or terms of use make it clear that, while the platform is pitched as a free and open communication service that encourages "honest global conversation", users shall not be allowed to make fun of the site. To access the platform, users shall have to agree not to
"disparage, tarnish, or otherwise harm, in our opinion, us and/or the site".
To what extent will that social media platform allow any headwinds or disagreeing messages on its platform?
Will all of Donald Trump's supporters then be able to just say their piece without fear of any backlash?
Trump announced the news in a press release on Wednesday, saying the platform will be open to "invited users" for a beta launch in November, with plans to make it available to the broader public in the beginning of next year.
Truth Social will be a product of a new venture called the Trump Media & Technology Group, which was created through a merger with Digital World Acquisition Corp. The group said it seeks to become a publicly listed company.
A link to the Truth Social website directs users to sign up for a waitlist or to pre-order the app via the Apple App Store. There, screenshots of the Truth Social app show a user profile that bears a striking resemblance to a Twitter profile. The name Truth Social was trademarked by Trump Group Corp in July, according to public filings.
Though the platform is not officially open to users yet, some were able to access the app and create an account through a URL that has now been taken down. A reporter at the Daily Dot was able to create an account and profile as @DonaldTrump.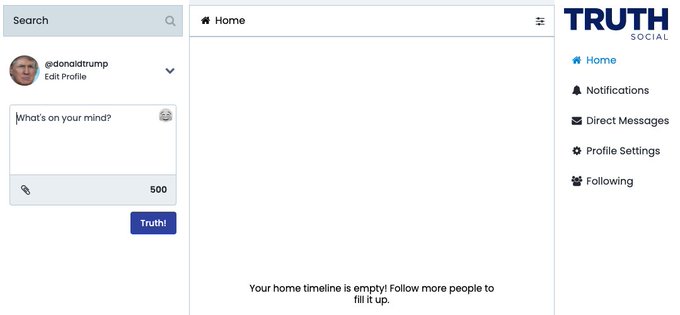 16.6K
725 Copy link to Tweet
12
At the moment the new site is just a registration page.  It is possible that he wants it to be a more successful version of other 'free speech' social media platforms like the American microblogging and social networking service Parler or Gab.
It is clear that Donald Trump does not give in yet and clearly wants his megaphone back. He thinks this might be his ticket. The matter will be, who is going to become a member of his social media platform and what shall be allowed to be published in the messages of the members.
How much room will be provided for true facts and correct news reports as opposed to false and fake ones, we know from the Trump-folowers?
The danger with the creation of this new platform is that conservative Christians, who were in favour of Trump, will now find themselves on that platform and reinforce each other with their fundamentalist thoughts.
+
Find also:
Former president of the U.S.A. launches new social media platform
+
Preceding
A busy 2017 #3 Fake, gossip and real news
To protect our democratic system #1 Danger of fake and malicious social media accounts
2019 was #3 a Year of much deceit in the News World
2020 in view #1 The 45th president of the U.S.A.
2020 in view #2 The 45th president of the U.S.A. not willing to go
Stress-test for democracy #1 Storming of the Capitol in Washington
Stress-test for democracy #2 A coup d'etat with bloodshed
Manipulated content on social media
Undermining security and democracy via the Internet
++
Additional reading
+++
Related