Gisteren kreeg ik een bericht te horen dat mij schokte, maar toch ook niet verraste. Ik heb al jaren mijn bedenkingen bij enkele wereldleiders die meer dan eens door gebeurtenissen bevestigd zijn geworden. De twee boezemvrienden van vroegere Wereldleidende gebieden hebben hun strepen verdiend met het vertellen dat het de anderen waren (of zijn) die alsmaar leugens verspreiden met hun 'vals nieuws of nepnieuws'. Fake News werd zelfs een rage.
Wat gisteren mijn oren bereikte was echter geen valse berichtgeving, maar harde realiteit, dat Vladimir Poetin, die alsmaar beweerd had dat hij helemaal geen plannen had om Oekraïne binnen te vallen, alhoewel het westen dat beweerde, toch wel zich voorbereid had op wat hij al lange tijd in gedachten had en wenste uit te voeren. Het licht namelijk in zijn wensen om zijn grote droom waar te maken, om het vroegere Sovjet land terug waar te maken. Zijn boezemvriend in de States riep van MAGA in navolging van wat voorgaande presidenten al gedaan hadden, maar wenste enkel zijn naam groter te maken. Hij trompeerde zich degelijk en met zijn absurdheden ontsierde hij niet enkel de Amerikaanse geschiedenis maar sloeg er in om meer verdeeldheid in die Verenigde Staten van Amerika te verkrijgen. Nu zien wij zijn vriend een gelijkaardige grote fout maken die hem wel eens zeer zuur zou kunnen opbreken.
In het noorden van het Europese vaste land is er ook zulk een bullebak als in het Westen en het Oosten, om de weegschaal gelijk te stellen (denkelijk). Hij slaagt er in om een 'pokerface' op te zetten en een lichaamstaal te vertonen die minachting uitstraalt naar de andere landen en naar allen die het niet met hem eens zijn. In navolging van zijn vaders werk en zijn vroegere taken bij de KGB slaagt hij er nu in om meerdere mensen, die het niet eens zijn met zijn regime, van de kaart te doen verdwijnen. In navolging van de vroegere Sovjet dictators weet hij als geen ander de nodige angst te zaaien in eigen land, zodat de meeste mensen zich niet durven uitspreken. Dat viel maar al te goed op toen buitenlandse pers aan de ingezetenen van Rusland vroegen wat zij van de inval in Oekraïne dachten.
'Is er iemand die het niet eens is met deze lezing van de feiten?',
vroeg Vladimir Poetin ook in de zitting van de Russische veiligheidsraad. De machtige mannen en vrouw van Rusland hadden net besproken waarom de twee Oost-Oekraïense gebieden die sinds 2014 in handen zijn van separatisten, officieel erkend moesten worden.
Men kan indenken dat de heren zich niet durfden uitspreken tegen de machtige heerser, wiens praktijken zij onderhand wel al kenden. Er viel een oorverdovende stilte. De spreekbuis naar de Westerse mogendheden, minister van Buitenlandse Zaken Sergej Lavrov keek nietszeggend. Hij had de hele meeting geprobeerd om zich op de vlakte te houden. Wie zou er geen dollar gegeven hebben om te weten wat er in zijn hoofd omging?
Normaal gesproken zou het zijn taak zijn om de president in te lichten wat de gevolgen van zijn agressieve daad zou zijn.  Hij zal vast en zeker wel enige gedachten gehad hebben van de mogelijke sancties waarmee het Westen nu op de proppen zou komen. Ook premier Mikhail Misjoestin leek niet op zijn gemak. Hij wist dat de economie in zijn land een klap zou krijgen bij oorlog en het was net zijn taak om het economische leven weer aan te zwengelen. Maar vermoedelijk beseft hij ook dat de grote meerderheid van het communistische land nu in armoede leeft en al niet meer te verliezen heeft. Velen verlangen trouwens terug naar 'die tijd van toen'.
Iedereen die geïnteresseerd is in de machtsrelaties in het Kremlin, had maandag het schouwspel gevolgd. Het gebeurt niet elke dag dat de zitting van de Veiligheidsraad live wordt uitgezonden. Hoewel, live? Het kritische televisie­station Dosjt had opgemerkt dat het hor­loge van een van de eminenties vijf uur vroeger aangaf dan de live-uitzending. Donderdag bevestigde het Kremlin dat het geen live-uitzending was. Opvallend: dat betekent dat iemand had beslist om de ­ijskoude bolwassing van Poetin aan Sergej Narisjkin, de chef van de buitenlandse ­inlichtingendienst, er niet uit te knippen. Geheel in de stijl van Stalin, schreef iemand op Twitter.
Gisteren was het zo ver. Wat hij volgens zijn voorgaande uitspraken, zeker niet zou doen, deed hij toch. Op 24 februari 2022 begon Rusland een grondoffensief langs drie fronten: het oosten, de krim en Wit-Rusland. Vooral in het zuiden werd veel Oekraïens grondgebied veroverd.
Al snel werden strategische punten op de Oekraïners veroverd. Hij die beweerd dat hij een vredesmissie onderneemt om het leed van de Oekraïniërs te verzachten, blijkt er niet om te geven dat er verscheiden doelwitten waar geen militairen zaten te treffen zodat meerdere onschuldige burgers (vrouwen en kinderen) het leven lieten.
De in beslag genomen vliegvelden zullen dienst gaan doen om verder legermaterieel over te brengen en zo het veroveringswerk te vergemakkelijken.
Luchtalarmsirenes loeiden vannacht boven bepaalde districten van de miljoenenstad Kiev (Kyiv) waar velen zich in schuilkelders en metrostations verscholen hadden. Na hevige explosies in de stad vannacht, vielen de Russische troepen vanmorgen de hoofdstad binnen.
De 32 jarige journaliste Kristina Zelenyuk wist te melden
'We hebben nog internetverbinding, dus het is nog niet zo slecht. Als de luchtaanvallen afgelopen zijn, keer ik terug naar huis.'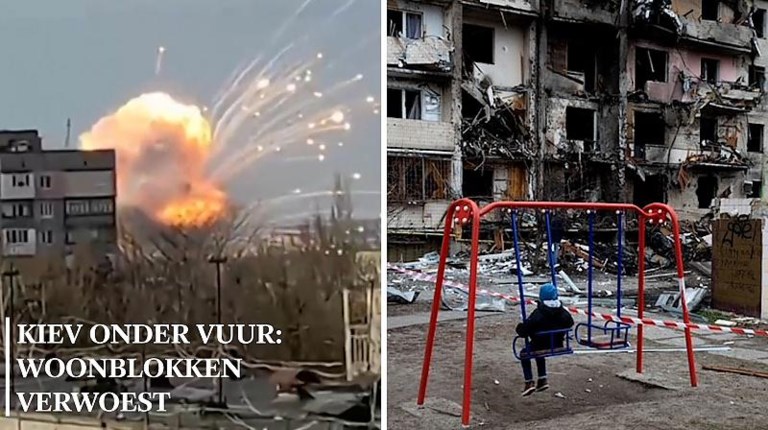 Overal in Kiev zijn er beschadigde residentiële gebouwen. Getuigen sturen filmpjes door waarop beelden te zien zijn van verwoeste huizen, rookpluimen en overvolle metrostations waar Oekraïeners slaap probeerden te vatten. In het zuidoosten van Kiev werd brand veroorzaakt door puin van een vliegtuig dat boven de hoofdstad werd neergehaald.
Hij die beweerde ter hulp te komen voor de al 8 jaar geterroriseerde burgers veroorzaakt naar mijn weten juist terreur. Met de moderne oorlogsvoeringswapens is het ook mogelijk doelgericht te werk te gaan, maar bij het Russische leger lijkt er geen onderscheid tussen militaire en burger doelen. Vele huizen en appartementsblokken zijn zwaar beschadigd en hebben verscheidene burgerslachtoffers gemaakt.
Ook elders waren er botsingen met het Russische leger. En terwijl een boer vlak bij zijn huis aan het filmen was, zagen wij hoe er vlakbij een bom inviel in een gebied waar enkel landbouwvlakte op te merken viel – zelfs geen één soldaat of legervoertuig liep er te zien.
Voor de Oekraïense minister van Buitenlandse Zaken Dmytro Kuleba is het van de Tweede Wereldoorlog geleden dat zijn land zoiets ergs mee maakte.
'De laatste keer dat onze hoofdstad zoiets meemaakte, was in 1941 toen het werd aangevallen door nazi-Duitsland',
tweeted Kuleba.
'De Russen hebben het ook op gewone burgers gemunt',
zegt de Oekraïense psychologe Oksana Labunska (42) die de hele nacht wakker bleef om het nieuws te volgen.
'Ik heb mijn ramen toegeplakt',
zegt ze.
'Mijn vrienden hebben me om 5 uur 's morgens opgepikt. Ik ben nu onderweg naar mijn moeder die in Lutsk woont, een stad in West-Oekraïne. En dan moet ik opnieuw beslissen wat ik zal doen.'
Volgens een Oekraïense journalist van The Kyiv Independent werden er gisteren 10.000 automatische geweren uitgedeeld aan gewone burgers. De Oekraïense president Volodymyr Zelensky heeft eerder laten weten dat het land wapens zal verstrekken aan alle burgers die bereid zijn om het land te verdedigen en nu blijkt dat vele gewone burgers hun land niet in de steek zullen laten en bereid zijn om het met hand en tand te verdedigen, tot sterven toe.
+
Voorgaande
Recht op vrijheid van meningsuiting in Rusland beperkter
Overzicht voor het jaar 2015 #1 Dreiging en angst
Een nutteloos maar zeer gevaarlijk uitdagingsspel
++
Aanvullend
+++
Gerelateerd