Het is onbegrijpelijk hoe de Antwerpse diamantsector, waar toch ook veel joden in werkzaam zijn, haar geldt verder laat stromen naar hen die mee de oorlog in Rusland tegen Oekraïne steunen.
De Antwerpse diamantsector betaalt jaarlijks miljarden aan een Russisch staatsbedrijf dat ruwe diamanten aanlevert. Dat geld vloeit grotendeels door naar de Russische staatskas en Poetin betaalt er zijn oorlog in Oekraïne mee. Het bedrijf in kwestie blijkt naast diamanten ook te investeren in oorlogsduikboten. Toch blijft de diamantsector zaken doen met Rusland, met dank aan de diamantlobby.
Het gros van de Russische diamanten die naar Antwerpen komen, is afkomstig van een Russische groep van diamant bedrijven, die als staatsbedrijf Alrosa, een wereldmarktvolume van diamantwinning weet te verzilveren van 27%. De Russische mijnbouwgroep is 's werelds grootste producent van ruwe diamanten. Ze sloot in december een nieuwe samenwerkingsovereenkomst met de Antwerpse diamantkoepel Antwerp World Diamond Centre (AWDC). Waarschijnlijk bedragen hun reserves ongeveer een derde van de totale wereldreserves van diamanten en zouden zij met het huidige niveau van de winning minstens 18 à 20 jaren kunnen verdergaan.
In 2012 werd al eens een gerechtelijk onderzoek gevorderd dat moest bijdragen tot de volledige transparantie teneinde de rechten van eenieder en vooral ook van de Staat te vrijwaren. Men zou sinds dan al een goed beeld moeten hebben waar de diamanten vandaan komen en naar wie de gelden toestromen.
De Georgische juwelenwinkels en goudhandels in de Pelikaanstraat werden in 2012 al onder handen genomen. Maar hoe lijkt men nu al die winkels ongemoeid voort handel te laten drijven, terwijl de connectie met de verkeerde handen toch al gekend is. Hier gaat het om de miljoenen omzet en de vele gelden die ook de Belgische staat zou mislopen. Het is ontoelaatbaar dat de Belgische staat die geld zendingen  en handel van diamanten met aan Rusland gebonden handen verder laat gebeuren.
Hoewel Rusland hofleverancier is van de diamanthandel in Europa, blijft de sector gespaard van Europese sancties. Waarom kan oligarch Sergej Ivanov die al jaren met Poetin en de KGB, SVR en FSB meewerkt, terwijl hij nu ook als minister van defensie wel over de belangrijke legerstrategie moet oordelen en de lakens moet uitdelen, verder doen vanuit Antwerpen, terwijl Biden hem wel viseert?
In februari haalde Tom Neys van AWDC aan Radio 2 Antwerpen al aan dat
"De Russen hun ruwe diamanten wel via een andere stad zullen verkopen. Zo straft Europa Antwerpen."
Maar al zouden die Russen hun ruwe diamanten kunnen slijten aan andere steden, moet Europa er op toe zien, dat dit in geen enkele Europese stad zal kunnen gebeuren. Verder moeten de landen buiten Europa daar de juiste beslissing nemen, om er voor te zorgen dat het Russisch oorlogsapparaat niet met diamantgeld zal kunnen gefondst worden.
Ook al is een kwart van de Antwerpse handel met Rusland, moet deze stante pede gestopt worden, zoals ook de Bolsjewieke diamant in the City of Diamonds (Amsterdam) aan banden moet gelegd worden
Rusland mag dan wel een van 's werelds grootste producenten van ruwe diamant zijn, vorig jaar goed voor zo'n 37 miljoen karaat, met een flink deel van die productie bestemd voor Antwerpen, moet ook die sector en stad, haar verantwoordelijkheid nemen.
Ook al treft dat onze economie misschien meer dan deze van Rusland en is het goed mogelijk dat de Russen wel een andere diamanthub zullen vinden in de wereld, moeten wij er op toe zien dat die geldstroom gestopt wordt. Zoals ook de uitvoer naar Rusland van het Belgisch fruit, meer de Belgische telers en economie treft, is zulk een boycot erg noodzakelijk.
Via de diamant en de cryptomunten kunnen of konden de Russen heel wat financiële sancties omzeilen.
Op donderdag 24 februari vielen niet alleen de eerste Russische bommen op Oekraïne. Op die dag werd eveneens een recordhoeveelheid Russische roebels omgezet in cryptomunten. Wisselden cryptohandelaren een dag eerder slechts voor zo'n 20 miljoen dollar aan roebel om in crypto's, dan werd op de eerste dag van de Russische invasie van Oekraïne plots voor bijna 70 miljoen dollar omgewisseld. De daaropvolgende dagen werden opnieuw pieken tot boven 60 miljoen dollar bereikt, blijkt uit gegevens van het analysebureau Chainalysis.
Betreft het Elektronisch geld sloeg de Europese markt er in een beperking in te lassen, maar op het gebied van de cryptovaluta of cryptocurrency, een soort digitale munteenheid, die bewees geen zekerheid te bieden, die ook haar oorsprong vond bij Russische olichargen, kregen zij geen pak op de verhandelingen van dat geld, wat maar vrij lijkt door te gaan.
'De primaire markt van cryptomunten, bijvoorbeeld de platformen die hun eigen digitale munten uitgeven en waar een zekere vorm van centrale controle is, kan je inderdaad regels opleggen, indien de uitgifte in de EU plaatsvindt',
zegt Alexander Hamels, advocaat bij DLA Piper en gespecialiseerd in cryptomunten.
'Maar niet alle transacties lopen via gecentraliseerde wisselplatformen. Virtuele activa kunnen ook rechtstreeks overgedragen worden, zonder tussenpersoon. Die secundaire markt is veel moeilijker te reguleren. En net op die manier wordt ontzettend veel gehandeld, en dat met talloze soorten cryptomunten.'
Uiteindelijk kan men vaststellen dat veel Russen niet zijn tegengehouden om hun vermogen in cryptomunten om te zetten. Hierdoor is na de blokkering van de Mastercard en Visa Card door Swift toch nog geldverhandeling mogelijk, ook al blijkt die virtuele geldstroom toch nog niet zo groot te zijn.
Changpeng Zhao, de Chinees-Canadese eigenaar van cryptomarktplaats Binance, zegt tegen BBC dat zijn bedrijf bereid is alle huidige sancties 'nauwgezet' te volgen. Maar tegen een algemeen verbod verzet hij zich.
'Er staan enkele honderden Russische individuen op de sanctielijst. Die lijst volgen we zeer, zeer strikt op. Maar wij willen wel een onderscheid maken tussen politici die oorlogen beginnen, en de gewone Rus, die het daar niet mee eens is, maar door verregaande sancties toch zou worden getroffen.'
Dat is natuurlijk een kwaad zeer, dat door de opgelegde economische sancties heel wat gewone Russische lui worden getroffen, die het eerder al niet zo makkelijk hadden. Alleen al betreft de voorziening van fruit en groenten kunnen zij dat nu minder eten, doordat de Belgische leveranciers aan de grens geblokkeerd worden.
Maar Changpeng Zhao is er ook van overtuigd dat Russen die de sancties willen omzeilen,  dat ook op zoveel mogelijke manieren kunnen doen.
Ze kunnen hun vermogen net zo goed omzetten in diamanten of goud. Crypto's zijn niet het enige achterpoortje.'
En juist daarom moet de verhandeling van diamanten uit Rusland en Rusland getrouwe landen gestopt worden.
Voorlopig kunnen wij slechts hopen dat de Belgisch bevriezingsoperaties hun nut zullen hebben.
De 'algemene dienst Thesaurie' van de FOD Financiën heeft met vier man personeel – en één computercrack – maar liefst 10 miljard euro van Russische oligarchen ­bevroren.
'Op Europees vlak zijn we zeker niet de slechtste van de klas',
zegt directeur-generaal Alexandre De Geest.
In Nederland kijken ze alleszins vol verwondering naar de Belgische bevriezingsijver. Bij onze noorderburen stond de teller afgelopen week op amper 6 miljoen euro bevroren Russisch geld. Bij ons?
'Iets meer dan 10 miljard',
zegt De Geest.
Het gaat om geld, fondsen, aandelen, belangen in bedrijven. Dat geld wordt niet aangeslagen, maar tijdelijk 'on hold' gezet' zodat de eigenaars er 'voorlopig' niets mee kunnen aanvangen. De goederen worden niet 'in bezit nemen', de Belgische staat verdient niets aan deze miljardenoperatie.
'Het betekent gewoon dat er met dat geld, die bezittingen en transacties voorlopig niets meer mag gebeuren',
zegt De Geest.
'Je mag het niet naar het buitenland versluizen, je kan er niet mee betalen. Het staat vast.'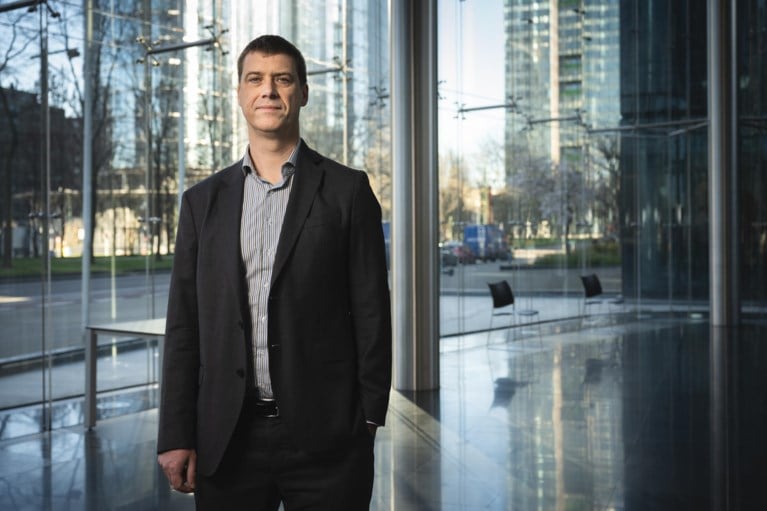 Zulk een bevriezing of het onderbreken van verhandeling is het minste dat men nu kan en moet doen.
Voor Antwerpen is er naast de diamant sector ook Eurochem, in de Antwerpse haven. Het is eigendom van de Oost-Europese oligarch Andrey Melnichenko, oprichter en ex-vennoot van kunstmestproducent EuroChem Group en steenkoolbedrijf SUEK en meerderheidsaandeelhouder van de commerciële zeehaven van Moermansk. Hij is met een geschat vermogen van 15,8 miljard dollar, de 7de rijkste persoon in Rusland.
Bij het Antwerpse havenbedrijf  werken 400 mensen, maar de productie van kunstmest ligt nu stil. Volgens de vakbonden mag er dezer dagen zelfs geen poetsploeg meer binnen. En het nabijgelegen BASF mag geen producten meer leveren.
Melnichenko was voorzitter van het Benoemings- en Remuneratiecomité, lid van het Strategiecomité en niet-uitvoerend bestuurder van EuroChem Group AG en was de feitelijke begunstigde van 100 procent van EuroChem. Op 9 maart 2022 heeft hij echter ontslag genomen uit alle functies en zich teruggetrokken als begunstigde van EuroChem. Maar dit kan dan wel gezien worden als een truuk om het bedrijf weer aan het werk te laten gaan.
De overheid dient goed op te letten welke truukjes de Russen maar al te graag zullen gebruiken om toch gelden te laten vloeien naar hun moederland zodat zij daar ook hun leider verder zullen kunnen steunen in zijn dwaze waanzinnige (en onmenselijke*) oorlog.
+
* bestaat er wel zoiets als een menselijke oorlog. Elke oorlog is sowieso onverantwoord en zou moeten vermeden worden.
+++
Vindt ook te lezen: