Queen Elizabeth II was proclaimed Queen throughout the UK and Commonwealth on 6 February 1952 and served her country until her death on September the 8th 2022.
Yesterday, when I had my lunch, suddenly worrying news came into many households all over the world. Though at that moment it was said that the Queen was placed under medical supervision at Balmoral. But heard that her doctors had become "concerned" about her health, and her immediate family had been informed, did ring some alarm bells.
Great Britain had celebrated her Platinum Jubilee and once again the people showed they had a heart for the Kingdom, and the Monarchy. The last few months, already at a blessed age, she probably knew her time was going to come to a close in the near future. She already started letting others do some work she otherwise would have done. Early in February she also let the world know she was considering there would come a time her work would be finished and that she would give the sceptre to her successor.
For the British monarch Queen Elizabeth II, marking 70 years since she acceded to the throne, following the death of her father, King George VI,  it looked very clear that her son Prince Charles would become King, and that next to him there should be a place for Camilla, the Duchess of Cornwall, to be known as Queen Consort. In a message marking the 70th anniversary of her reign, the Queen said it was her "sincere wish" that Camilla would have that title.
As senior members of the Royal family gathered at Balmoral, where Her Majesty was under medical supervision following doctors' concerns, the press started speculating. After some hours rumours went around that the queen would have died.
A flight carrying the Duke of Cambridge, the Duke of York and the Earl and Countess of Wessex landed at Aberdeen Airport just before 4pm. The Prince of Wales, who landed in a helicopter Thursday morning, and the Princess Royal were already with the Queen. The Duchess of Sussex did not travel to Scotland with the Duke of Sussex.
The Queen had previously held audiences with Boris Johnson and Liz Truss at Balmoral to appoint the 15th prime minister of her reign. The location was a break with tradition, due to ongoing mobility problems. She was last pictured formally appointing the new Prime Minister, Liz Truss, at Balmoral on Tuesday, her final public duty. At the photograph then taken we saw her with a bruise on her right hand, while her left hand was resting on her cane.
The Queen's health was understood to have deteriorated rapidly on Thursday, with members of her family making last-minute arrangements to be at her side. In a statement at 6.30pm, Buckingham Palace confirmed that she had died and reassured the public that the moment had been peaceful.
Although it is never pleasant to witness a death, we can say that it is good that the Queen did not suffer and breathed her last after 96 remarkable years of dedication to her homeland.
On her 21st birthday, in a speech broadcast from Cape Town, the Queen (then Princess Elizabeth) had made a heartfelt pledge, she kept to the end:
'I declare before you all that my whole life whether it be long or short, shall be devoted to your service.'
Nobody shall be able to say she did not do her work properly or did not serve the countries of which she was the monarch. Every day of the years she was there for that great nation and her sense of duty and her devotion to a life of service remained steadfast. She was the longest-reigning monarch in British history, and the most celebrated.
Elizabeth was the elder daughter of Prince Albert, duke of York, and his wife, Lady Elizabeth Bowes-Lyon. As the child of a younger son of King George V, the young Elizabeth had little prospect of acceding to the throne until her uncle, Edward VIII (afterward duke of Windsor), abdicated in her father's favour on December 11, 1936, at which time her father became King George VI and she became heir presumptive.
During World War II she and her sister, Princess Margaret Rose, were living safely away from London at the private residence of the British sovereign, on the right bank of the River Dee, Balmoral Castle in Aberdeenshire, Scotland and at the Royal Lodge, Windsor, and Windsor Castle at the northeastern edge of the district of Windsor and Maidenhead in the county of Berkshire, England.
Wanting to serve her country to the fullest she made a call to the children of the Empire and later came to serve as an army chauffeur in the 2nd world war.
Princess Elizabeth got an eye on a man who was not so much liked by her parents because they considered him too outspoken and rude. Though that man, her distant cousin Lieutenant Philip Mountbatten of the Royal Navy, formerly Prince Philip of Greece and Denmark was going to be the man of her life and husband, from 1947 onwards. Prince Charles (Charles Philip Arthur George), became their first child on November 14, 1948.
In the summer of 1951 the health of King George VI, who had smoked a lot, entered into a serious decline, and Princess Elizabeth represented him at the Trooping the Colour and on various other state occasions.
When she was en route, at Sagana, Kenya, news reached her and her partner that her father had died on February 6, 1952.
The monarch said that, 70 years on, the day is one she remembers "as much for the death of my father, King George VI, as for the start of my reign".
There was not so much time to mourn, she was having to bear the crown of the great Empire. She undertook the routine duties of the sovereign and carried out her first state opening of Parliament on November 4, 1952. Her coronation was held at Westminster Abbey on June 2, 1953 and was the first event that got an international television screening in real life.
Taking on her duties as queen she made a six-month round-the-world tour of the Commonwealth, which included the first visit to Australia and New Zealand by a reigning British monarch, but was also a first sign of the importance the queen would give to that Commonwealth.
She was also the first reigning British monarch to visit South America (in 1968) and the Persian Gulf countries (in 1979).
Like in all households there were good and bad days, but the queen also had to face an " annus horribilis" in 1992 when she faced republican sentiment and media criticism of her family, Prince Charles and his wife, Diana, princess of Wales, separated, as did Prince Andrew and his wife, Sarah, duchess of York. Moreover, Anne divorced, and a fire gutted the royal residence of Windsor Castle.
Another difficult moment was when the public found she did not show human feelings by the death of her former daughter-in-law Diana, Princess of Wales, in 1997. In line with her earlier attempts at modernizing the monarchy, the queen subsequently sought to present a less-stuffy and less-traditional image of the monarchy. These attempts were met with mixed success.
However, we can say that regularly the people went mad about their "regiis domum". More than once during her reign the royal house and the royal family received all attention on specially made porcelain for special occasions such as marriages and anniversaries. In many countries of the Commonwealth, we could see the support for the monarchy in the United Kingdom which remained consistently high, as did Queen Elizabeth II her personal popularity.
There was the "Golden Jubilee," in 2002 held throughout the Commonwealth, including several days of festivities in London, celebrations somewhat diminished by the deaths of Elizabeth's mother and sister early in the year.
In 2012 Elizabeth celebrated her "Diamond Jubilee," marking 60 years on the throne. On September 9, 2015, she surpassed Victoria's record reign of 63 years and 216 days.
It was heartbreaking to see how the Queen had to sit on her own at the cathedral by the funeral of her beloved, whilst her prime minister did not mind holding parties at Downing Street, whilst he demanded of others corona restrictions.
We can also imagine and believe that it was clear that the loss of her husband has made a huge impact on her emotional life, which has not benefited her health.
When in June this year Britain celebrated Elizabeth's 70 years on the throne with the "Platinum Jubilee," a four-day national holiday we could see a lady who had become 'old' and 'frail', though she kept herself upright and showed she still had some sense of humour.
Health issues limited Elizabeth's involvement.
Her four children and most of her grandchildren and great-grandchildren have spent time with her in Balmoral this summer, enjoying the countryside of the Highlands and the picnics that have been such a part of their summer retreat for decades.
Concerns about the queen's health also led to a break in tradition when the crown speech had to be pronounced and her eldest son had to take on this task.
In September, she had Boris Johnson come to Balmoral as well as his replacement as prime minister, Liz Truss, rather than at Buckingham Palace, where she had formally appointed more than a dozen prime ministers.
The woman known to love simplicity could always amaze us with the beautiful clothes she wore and the beautiful smile she could put on her face.
To that laughing face came an end yesterday afternoon.
That Prince Charles and his wife had already travelled by helicopter from Dumfries House to Balmoral was the first sign to the public of how serious the Queen's condition was.
Mindful of the effect on their young children, the Duchess of Cambridge chose to stay at home to be there when they returned from school and relay the news about their great-grandmother in person.
In Britain for a few days by coincidence, the Duke and Duchess of Sussex cancelled an engagement at the Wellchild Awards on Thursday evening and were together with the other children and grandchildren of the Queen.
In the afternoon of Thursday 8 September, the announcement of her death marked the start of national mourning, with the Royal court to spend one month officially honouring her memory.
Buckingham Palace will release official arrangements for the funeral in the coming days, after they have been signed off by the new King.
Aides have now instigated Operation London Bridge, (also known by its code phrase London Bridge is Down) a funeral plan for Queen Elizabeth II, already created in the 1960s and revised many times in the years before her death in 2022.
Running concurrently with Operation London Bridge is Operation Spring Tide, which addresses the accession of King Charles III to the throne and his first trip to the countries of the UK. Several Commonwealth realms developed their own plans for how to react to the death of the Queen.
The governments of the Commonwealth realms were informed of the monarch's death from the Foreign, Commonwealth and Development Office's Global Response Centre.
---
A very wise, gritty woman has left a beautiful legacy to the world.
Our thoughts are with her family members who are even more affected by this sad news and who will have to show their strength to the outside world during these days.
May God bless them & give them strength.
A statement from His Majesty The King: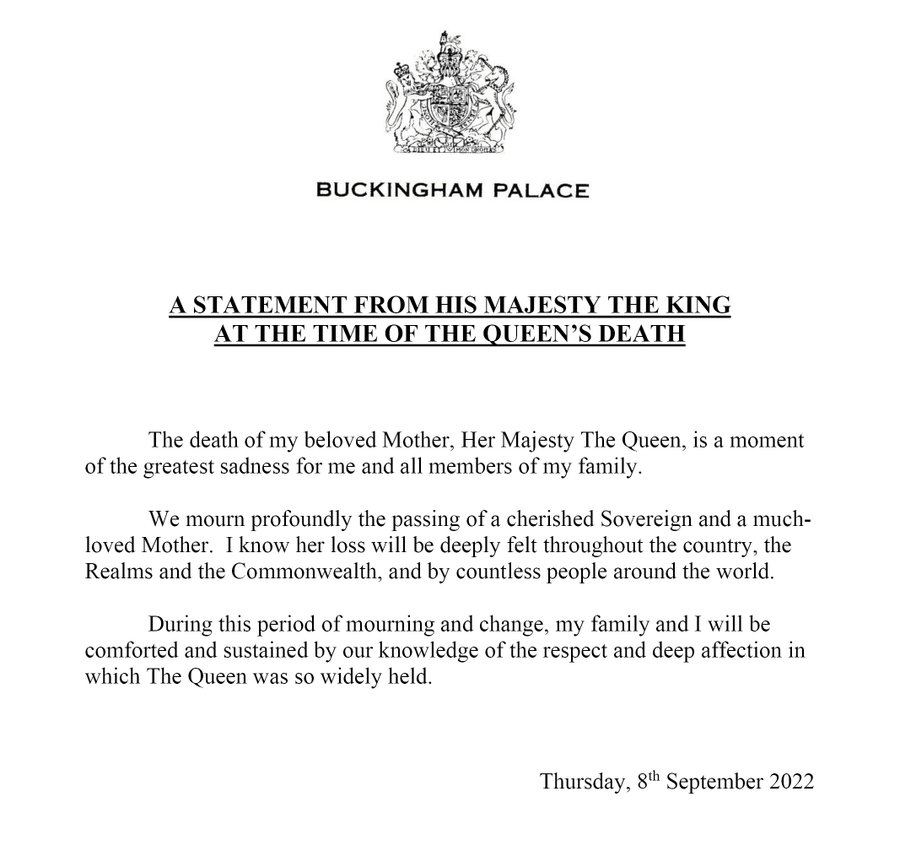 ---