Last week, I came back from my trip to Italy along France to re-enter France again on Monday to bring my son to Charleroi and fetch him from Melleville Aèrodrome (Melville airport) to which he had brought a plane.
I knew that there was a problem with the distribution of petrol, but that it was going to be so bad surprised me and got me in difficulty, seeing that my car gave notice that my fuel was too low. Several tank stations I passed where the petrol pumps were empty.
Now I could experience first-hand how a persistent strike can achieve its goal through workers' cooperation. France's striking oil refinery employees with the powerful CGT union made a blockade that can be felt all over the country.
On Monday I could see (and feel) how more than a quarter of France's petrol stations had partially or completely run out of fuel. One station after the other I passed gave on the notice boards 0000. In a few stations there was still some diesel to be obtained.
France's energy minister Agnès Pannier-Runacher on Sunday suggested that demand for fuel had jumped by as much as 30pc in certain parts of the country.
The industrial action at TotalEnergies coincided with strikes at two Exxon Mobil sites, with unionised workers at both companies demanding higher wages to mitigate the impact of surging inflation.
Together they have taken more than 60pc of France's refining capacity offline, driving diesel prices higher and prompting the country to ramp up imports of the fuel.
French president Emmanuel Macron does find that
"blockage is not a way of negotiating."
The continued strike now also means that a lot of people cannot go to work without the necessary fuel, warding off part of the French economy after all.
To be on the safe side, petrol stations have been urged to give preference to emergency vehicles and responders to still provide them with fuel so that patients can be reached and helped.
The strike has forced TotalEnergies' 240,000 barrel per day Gonfreville refinery offline. Located in Normandy that integrated refinery owned by TotalEnergies, started operations in 1933, converts 12 million metric tons of crude oil into some 200 products, including gasoline, diesel, kerosene, lubricating oils and plastic pellets. Between 2000 and 2010, €1 billion has been invested to make the facility more energy efficient and align its production with changing demand. The Normandy platform is now one of our biggest refining & petrochemical platforms in the world. It is at the forefront of TotalEnergies industrial operations in France, representing 12% of France's total refining capacity and the petrochemicals plant accounts for 11% of plastics produced in France. Products from the Normandy platform are sent to 60 countries worldwide.
At its 240,000 barrel-per-day Gonfreville refinery, the strike action in the sector continues to threaten supplies at a time of deepening energy instability.
The outages come ahead of a heavy refinery maintenance season and as Europe weans itself off Russian fuel supply. Traders are already having to rely on heavy imports of refined products, analysts said.
At first it would only be about three days but now its already going into weeks and providing many empty tank stations, leaving lots of people without fuel for their cars.
TotalEnergies' 119,000 barrel per day (bpd) Feyzin oil refinery in southern France, was closed for unplanned maintenance on Sept. 16 after a leak at the fluid catalytic cracking unit, but had fuel in storage, but is likely to remain offline until mid-October at the earliest, a CGT union delegate said.
Two ExxonMobil refineries, 235,000 bpd Fos-Sur-Mer refinery and 240,000 bpd Port Jerome-Gravenchon oil refinery, have also been out of action since late September.
The unionised workers are seeking higher pay after the surge in energy prices caused profits to jump at oil giants, including TotalEnergies which is planning to return billions of dollars to shareholders. Its shares are up 17pc over the past year. The workers find a 10% pay rise reasonable – 7% to cover inflation and 3% for what they call "wealth-sharing".
Being in its third week, the stike has shut six of France's seven oil refineries. With long queues of cars now a regular sight at the pumps, even at Belgian stations near the border, the French government wants to get the fuel flowing again.
After the government said it would use mandatory powers to force some of the workers to go back to work, also threatened prosecution unless they allow some lorry tankers to fill up, they responded angrily.
French Prime Minister Elisabeth Borne said that if no agreement could be reached between the oil firms and the unions, the government would act to "unblock the situation".
But the hard-left unions behind the stoppages see this as a threat to their right to strike and have toughened their position, calling the government's warning "illegal" and a "choice of violence".
The strike action has split opinion in France, with some commuters expressing exasperation over the fuel shortages and pointing out that they need their cars for work.
But at a time of growing anxiety about the cost of living and soaring profits for some energy companies, others have expressed sympathy for the strikers.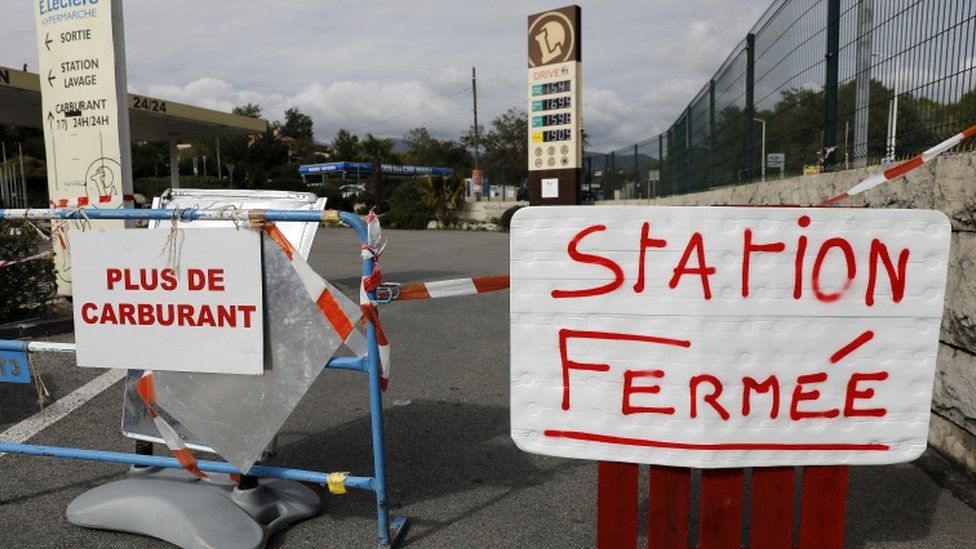 In the end, we chose to drive from Melville, via Kortrijk, to Grimbergen airport, where my son had to teach, so we could get to Belgium as quickly as possible to fill up. Fortunately, a 50-litre fill-up was possible there.
+++
Related