In the past week, two astounding and unrelated criminal investigations have come to light in Europe. Both raise troubling questions for democracy.
The European Union already has a hard time making itself useful and credible to the people at large. This week, it received a thump that will further damage confidence in the Union.
In September we had Greek Prime Minister Kyriakos Mitsotakis who said in an interview that he's confident he can ride out a spy scandal and even rule alone after elections next year.
Last week the Federal Judicial Police carried out at least 20 searches in total — 19 in private homes and one in the offices of the parliament. They seized nearly 1.5 million euros during searches in the Brussels region in connection with a case of suspected corruption involving people active in the European Parliament.
The Belgian newspaper Le Soir reported that Kaili's partner Francesco Giorgi and former MEP Pier Antonio Panzeri were also arrested.
Ten parliamentary staff had their IT resources frozen since Friday to
"prevent the disappearance of data necessary for the investigation,"
the federal prosecutor's office added. Police searches have also been carried out in Italy, it said.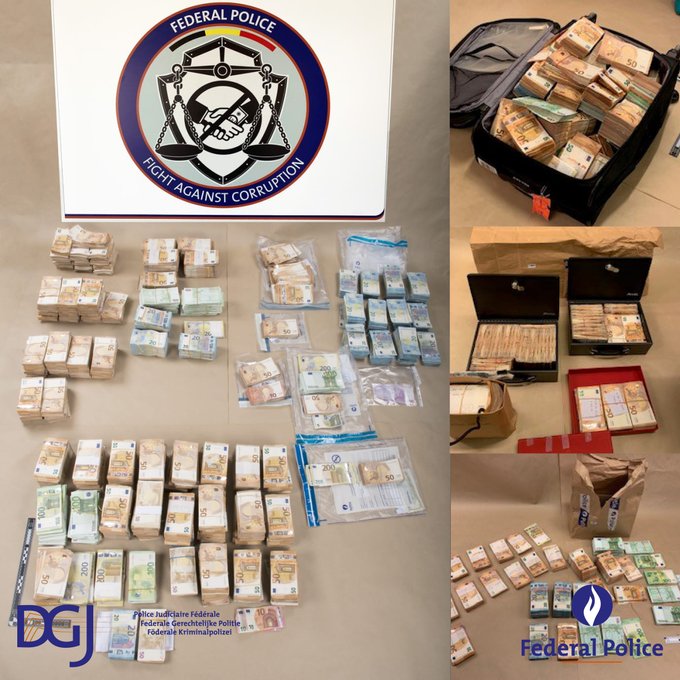 Those two astounding and unrelated criminal investigations that have come to light this week caused a shockwave throughout Europe. The scandal that came to light raises troubling questions for democracy, certainly because it happened in the highest echelons of the people who should try to make the best for the European community.
Normally, one would think a parliament vice-president should be a person of impeccable conduct and set an example to the community. Though Greek MEP Eva Kaili, might claim to be innocent, one could wonder where all that money came from that the Belgian research officers could find. She has denied any wrongdoing but 625 to one MEPs have voted, in Strasbourg, to strip Ms Kaili of her parliamentary position, as one of its 14 vice-presidents, pending investigation and her office in the parliament was sealed, with a notice saying "access forbidden".
Last month Kaili spoke in praise of Qatar's record on labour rights in the run up to the World Cup. A parliamentary vote on allowing visa-free travel in the EU for Qatari citizens has been postponed. Qatar has denied any wrongdoing.
After the accusations of the Belgian police there was good reason for the Greece's centrist ruling New Democracy party to suspend her as member of the European Parliament from the party, pending the outcome of an investigation by European authorities.
Her lawyer, Michalis Dimitrakopoulos, told Greek TV that there was uncontested evidence, that
"every move, contact and statement made by Eva Kaili regarding Qatar was made in execution and application of the official policy of the European Union".
Though, she has been reportedly arrested despite her parliamentary immunity, something that is only possible when an MEP is
"found in the act of committing an offence",
according to the EU parliament's website.
Sources said the €150,000 was found at Ms Kaili's flat. Asked if that was true, her lawyer said:
"I have no idea if any money was found or how much was found."
The suspects arrested by Belgian police have been charged with
"participation in a criminal organisation, money-laundering and corruption",
prosecutors said the previous Sunday.
Ms Kaili's partner, Francesco Giorgi, who is a parliamentary assistant, is among those reportedly charged.
The chair of the group in parliament, Iratxe García Pérez, said that the Socialists and Democrats (S&D) group in the European Parliament was shocked by the scandal.
"Today is a dark day for the European institutions and of course for the European Parliament and for our political family,"
she told reporters.
She said that lawmakers affected by the investigation or linked to parliamentary assistants involved would be temporarily suspended.
Greek authorities have frozen assets belonging to her, her husband and immediate family members.
The activities of a property company set up about two weeks ago by the MEP and her partner in Athens have also been frozen.
García Pérez added that Qatari authorities should also collaborate in the investigation and that if it is proven that they tried to undermine European democracy, there should be sanctions.
The group told Euronews that MEP Marc Tarabella suspended himself, Pietro Bartolo stepped down as shadow rapporteur for the LIBE committee file on visa liberalisation, and Andrea Cozzolino stepped down as S&D coordinator of urgencies.
Belgian Socialist MEP Maria Arena said on Twitter that she would no longer chair meetings of the human rights sub-committee due to the search of one of her assistants in the case.
Normally, we would expect higher standards from all those who work for the European Union. Von der Leyen said
"For us, it is very critical to have not only strong rules but the same rules also covering all the European institutions and not to allow for any kind of exemptions."
Transparency International EU's deputy director Nicholas Aiossa said that the organisation had been calling for an ethics body for "many, many years" but that there is a "general lack of political will" to create one. But for too long, people have kept it too easy and turned a blind eye to some things, such as checking in to attend meetings. Also, many did not wish to create a sense of suspicion and assumed that each person should make up his or her own mind about what he or she can or cannot do or justify.
"What needs to happen is that the European Parliament should take swift action in the interim to address some of the corruption risks and ethics risks that presently exist within their power to do so,"
Aiossa told Euronews, adding that there were a number of reforms that could be taken without the Commission's proposal.
Green MEP Daniel Freund, who heads a cross-party anti-corruption group, told the BBC that the parliament had
"reasonably good lobby transparency rules"
but that third countries like Qatar were excluded from them:
"So I think these third countries should go on the lobby register."
Referring to what he called clandestine operations by foreign powers in Belgium, a justice ministry spokesperson said
"We've been too naïve … for far too long. " We now arm ourselves better against this."
The spokesperson called the investigation
"a major case on which State Security has been working for more than a year, in collaboration with foreign intelligence services, to list suspicions of corruption of MEPs by different countries".
"This scandal risks playing straight into the hands of anti-European, anti-democratic forces,"
Parliament President Roberta Metsola said.